Florist and Flower Company Wraps
Brighten up your advertising
Have you ever considered showing off your corporate brand and graphics with a florist vehicle wrap?
Vehicle wraps are a proven advertising solution for boosting your brand visibility. There is no better way to engage your perspective clients than a full color vehicle wrap. As a local florist, you or your employees spend each part of each day driving making flower deliveries. This time on the road is valuable marketing time. A florist vehicle wrap is the most effective form of advertising you have available to your company. Download our marketing kit to day to read about specifically how vehicle wraps and car wraps can work for your company to increase your sales and grow your company.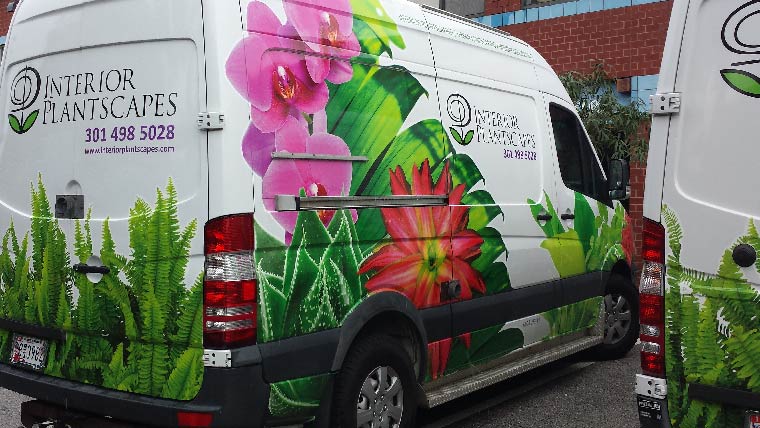 Capital Wraps will transform your vehicle into a mobile billboard for your business
When you are driving to the next client appointment, making your deliveries, or attending a business meeting, your floral van wrap passes thousands of people who will need your services. By wrapping your florist company van with your businesses brand, logo, and contact information, you will ensure that potential customers will see your businesses wherever you drive. If you need an effective way to promote your company, increase your visibility, a florist van or box truck wrap or graphic package can assist you. This mobile advertising will instantly increase your visibility whenever you drive.\
Vehicle graphics are "always on" whether parked or in motion unlike broadcast media, direct mail, yellow pages. Research has show that 91 percent of people notice words and pictures when passing vehicle wraps.
When you wrap your vehicle in your company brand, logo, identity, and contact information, you will raise awareness as you or your employees are driving or your vehicles are parked in front of your store. Capital Wraps designers can work with your brand and identity to create custom designs that will get you noticed and reflect your flower company. We know how to target your clientele and attract them to your services with effective flower vehicle wraps.
Florist van wraps and fleet graphics creates perception that you are a market leader
Looking for a creative way to improve your advertising reach for you fleet of vehicles? Whether you are two vans or you have 20 box trucks, florist fleet wraps are an incredible way to give your business instant visibility when you are parked or are driving around your major city or town. Does this work? The American Trucking Association sites that 98% of in-car audiences notice truck-side ads. The sides of your florist fleet this is valuable space, don't waste it; wrap it! You already own the space, use it.
Contact our staff to help your next vehicle wrap project
Call our experienced staff to speak with a representative about your vehicle wrap project. We have worked on rush orders and tight timelines to make our clients' events and launches successful and vibrant. We offer a complete service for single vehicle and fleet clients; this includes initial consultation, designing, printing & production and installation. All of our vehicle graphics are printed using warranted print materials and installed by our own professional and experienced installation team.