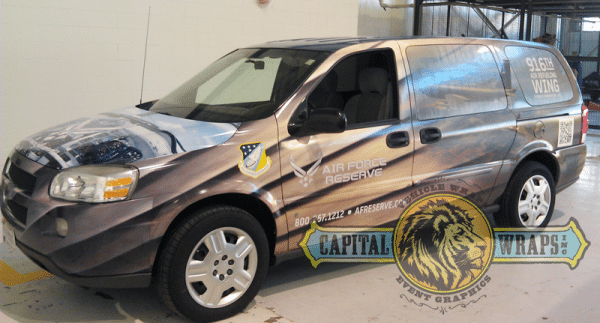 Military has been picking up the cool factor with vehicle wraps to help encourage recruits to enlist. We have been working with military branch recruiters around the country an din VA, DC, and NC to put some eye-popping vehicle graphics on their fleet of vehicles. From cars, trucks, vans, trailers, and minivans, we have help them with fleet wraps to design, install and create vivid experience for their recruiters.
These military vehicle wraps incorporate incredible sharp imagery of fighters, soldiers, airmen, to pictorially represent the honor of enlisting into their service branch. Here are several air force vehicle wraps from a recent campaign we undertook and help deliver to Polk and other air force bases in the mid-Atlantic.
Capital Wraps has worked with all branches of the military and spends time to understand their specific goals and objectives for each project to design, print and install these fleet wraps, and the quality of design showcases the extent of our capabilities.
Capital Wraps is a premier Custom Wraps and Graphics company is located in Washington DC. For more information on vehicle wraps, fleet wraps, or our other graphic products please contact Capital Wraps at 877.775.WRAP or visit www.capitalwraps.com