Gorgeous, Custom-Designed Banners For Your Building Or Event
Banners are one of the most affordable methods of covering a space with custom full color graphics that create an eye catching impact for your event, tradeshow, retail space, business advertisement or church message. Banners have been widely used for years and full color ones were originally hand painted by commercial artists, but Capital Wraps now provides full color digitally printed large format banners and are an excellent method for announcing your message to your clients.
Capital Wraps banners are used in a variety of venues to inform, advertise, call attention and set a theme or atmosphere. Check out our event graphics to see more about how these can be used in conjunction with other media such as floor graphics, eco-friendly signage, building wraps, elevator wraps, and table wraps to help create an inviting and memorable event.
Capital Wraps offers a variety of banner materials for various applications and venues. The materials range form standard scrim banner, fabric banner, speaker covering that doesn't affect the sound, mesh banner, flag banner, eco-friendly banner and polyester banner materials. These banner materials each have a different look and feel and can be used in a variety of applications.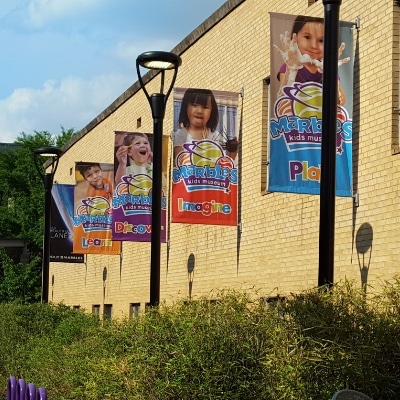 No Matter The Scale Of Your Graphics Job, We Can Get It Done
Whether you are looking for a 3'x 6′ single banner for outside your church or business, 100 banners to display in stores across the country or even a 50′ banner for a building wrap, we have the capability to fulfill your project, deliver on time and even install it on the building. Some of the other applications for banners include:
Fence Mesh Banners
POP Banners
Step & Repeats
Stadium Banners
Retail Window Banners
Tradeshow Graphics
Construction Banners
Sports Banners
Grand Opening Banners
And Much More...
Ready To Start A Banner Project? Contact Our Experts
Call our experienced staff to speak with a representative about your banner project. We have worked on rush orders and tight timelines to make our clients' events and launches successful and vibrant. Our banners have been installed in stadiums, racetracks, outdoor venues, sports events, music concerts, airport pole banners, construction sites and numerous other places. Send us a message online or call us at 877.775.9727 today!