Landscaping Vehicle Wraps, Graphics, and Lettering
Need to raise the visibility of your company?
Landscaping truck graphics and wraps are they best and most affordable method for promoting your company in your community. Whether you are driving from jobsite to jobsite get the most out of your on-the-road time with a full color vehicle wrap. This is valuable marketing time. You will reach thousands of potential clients every day with a lawn care vehicle wrap. Download our marketing kit to day to read about specifically how landscaping van wraps and truck wraps can work for your company to increase your sales and grow your company.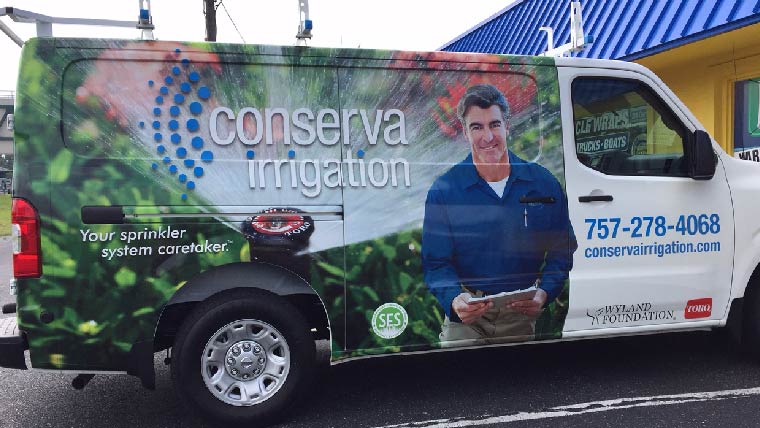 Set yourself apart from the competition with a full color professional vehicle wrap
Landscaping vehicle wraps and trailer wraps are the most effective form of advertising you have available to you. When you are on a customer house landscaping or simply doing a mow, blow and go, your will still be reaching their neighbors and other residents in the community. Make the most out of your time at the clients house and make your brand and identity visible.
Landscaping vehicle wraps creates perception that your business is the market leader
When you wrap your vehicle in your company's brand, logo, full color photos, and contact information, you will dramatically increase your exposure in your area. A lawn care vehicle wrap is the best way you can boost your visibility and get your name and brand out to perspective clients. Whether you are parked at a house, having lunch, or commuting to the next job, you're advertising. You already own the space, use it.
If your van is blank of has simply lettering, this adds little marketing value for your company. Make a statement with a full color vehicle wrap. Stand out from your competition with a landscaping company vehicle wraps. It is the best way to distinguish yourself and give your self that level of professionalism is with a vehicle wrap.
Powerful lawn care vehicle graphics and landscaping fleet wraps makes a stronger, more memorable impression
Looking for a creative way to improve your advertising reach for you fleet of vehicles? Whether you are two vehicles or you have 40 vans, landscaping fleet wraps are an incredible way to give your business instant visibility when you park your van or drive around a major city or a smaller town. Does this work? The American Trucking Association sites that 98% of in-car audiences notice truck-side ads. The sides of your fleet this is valuable space, don't waste it, wrap it!
Contact our staff to help your next vehicle wrap project
Call our experienced staff to speak with a representative about your landscaping vehicle wrap project. We have worked on rush orders and tight timelines to make our clients' events and launches successful and vibrant. We offer a complete service for single vehicle and fleet clients; this includes initial consultation, designing, printing & production and installation. All of our lawn care vehicle graphics are printed using warranted print materials and installed by our own professional and experienced installation team.