Craft An Enchanting Atmosphere With Full Color Wall Murals
Most up-to-date museums and exhibit halls with revolving and permanent displays are now starting to incorporate full color murals and other museum graphics to set the theme and create an engaging environment. Museums use banners, exterior floor graphics and window graphics to announce their new exhibits and draw attention so that people will stop by and see them. Once inside the museum, murals, floor graphics and full color displays and signage inform, educate and engage your patrons.
These museum graphics need to be the highest photographic quality images, as they will be seen from several feet away. Capital wraps works with museums across the nation with transforming their spaces into creative and innovative landscapes.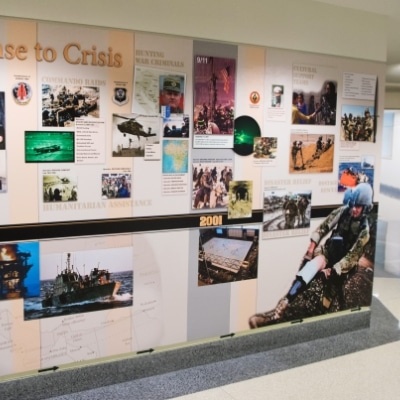 Transform Your Museum & Ignite Imagination
These are just a few of the museum graphics applications we've installed:
Wall murals.
Interior floor graphics.
Exterior wall mural on brick.
Banners.
Way finding signage.
Eco-friendly signage.
Exterior floor graphics.
Ceiling murals.
Stand up displays.
Pop up banner stands.
Partner With Capital Wraps To Enhance Your Message
Whether you're in advance planning on your next exhibit or you have an opening in a few days that needs punching up, Capital Wraps can take care of you. Call one of our experienced staff members at 877.775.9727 or contact us online and let us get to work for you. We'll be with you through all phases of the project: consultation, design, production and installation. Engage and inform your audience with a dynamic new museum graphics display today!