Make Your Customers' Mouth Water With Scrumptious Food Truck Graphics
There's no question that the best way to spark someone's interest in your food is to let them see it. Once they lay eyes on that perfectly cheesy pizza or that deliciously spiced shawarma, it's only a matter of time before they're placing an order. But how can you show off when they're trapped in their cars? A full vehicle wrap on your food truck will turn your business into a rolling advertisement that will give other drivers a chance to salivate over your culinary creations. Call us today at 877.775.9727 and let's start cooking!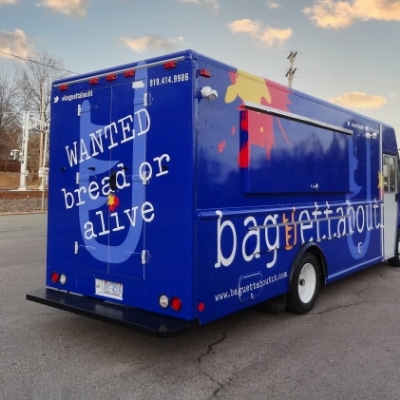 Help Potential Customers Find You
Of course, just having images of your delectable treats isn't enough. If someone sees a picture of your lobster roll but doesn't know your name, how will they ever know where to find you? A food truck's mobility presents a unique challenge since you don't have a brick-and-mortar location and you might set up shop at a different address every day, but it also presents a unique opportunity to make your name and meals appear before the eyes of thousands of drivers on the road. Tell them your name and social media info, show them what you've got and they'll make sure to follow you to know where you'll be. Our professionally designed wraps can do exactly that, with fun and enticing graphics that will make your food (and your truck) unforgettable.
Some other advantages of our food truck wraps:
Made from top quality 3M material.
1200-dpi printing on our large format printers.
Beautiful and striking images crafted by our skilled designers.
Take advantage of your truck's real estate to promote your brand and contact info.
Advertising that is always on and always on the move.
Let Capital Wraps Craft You A Recipe For Success
Creating an engaging vehicle wrap requires several ingredients. Knowledgeable consultation. Artistic design. Expert production. Professional installation. Put all these together and cook them up and you'll have a brand new advertising tool that'll have fans following you wherever you go. We've got the ingredients ready to go - we just need you to place your order. Give us a call at 877.775.9727 or message us online today!