Vehicle Wraps & Graphics Services That Come To You
Capital Wraps prides itself on its national account team. Though based on the east coast, we are outfitted to serve clients nationwide, working with national companies and franchise operations to provide exceptional, dynamic vehicle wraps and graphics to boost both their visibility and their bottom line. It doesn't matter if your company needs to wrap one vehicle or an entire fleet - we've got the expertise and experience to handle the job even at multiple locations around the country simultaneously. If you're ready to turbo charge your approach to marketing, you need to give Capital Wraps a call.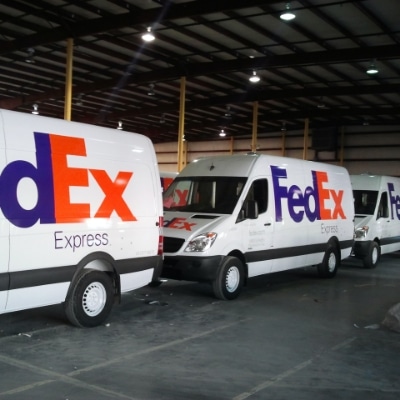 An Experienced & Agile Partner For Your Advertising Success
Here are some of the major benefits you'll receive working with Capital Wraps:
One Point Of Contact: You'll only need to know one number to call for service requests anywhere in the United States. We take care of the whole process rather than farming out to other companies.
Brand Compliance: You've worked hard to build your brand. We aren't here to reinvent the wheel; we're here to boost that brand's awareness with consumers on the road. We'll make sure everything we do complies with your branding.
Prioritized Billing: We are set up to make the billing process as customizable and painless as you need. Want to bill everything to corporate headquarters? We can do that, or work with franchises individually. Interested in electronic billing to save on paper? We've got you covered.
Streamlined Service Requests & Reporting: Get immediate responses to your needs through our robust customer service system.
Pricing Advantages: Working with a single vendor helps you control all your costs, and we'll work with you to set up the right pricing structure to get you maximum marketing bang for your buck.
Dedicated Account Manager: We'll assign a manager to your account so that you have a single contact person that can keep you updated on ongoing projects and answer any concerns you have. They'll ensure everything is being done as agreed, that contract terms and conditions are met and that jobs are installed accurately and on time.
Ongoing Maintenance: Have a minor fender bender? If your vehicle wrap has been damaged we can quickly schedule to get the elements reproduced and reinstalled. We'll even work directly with your insurance company to cover the costs.
Download our digital marketing kit to learn more about the service we offer and to see additional information for how your national company can benefit from partnering with Capital Wraps.
You Do Business Across the Nation. Now Advertise Across The Nation's Roads
Any time one of your fleet vehicles is on the road, people are seeing and thinking about your company. It's only a matter of time before the phone calls start coming in. If you're ready for that business, then you need Capital Wraps. We'll take you through the initial consultation, design, production and installation of your new graphics and ensure your total satisfaction with our work. Call us at 877.775.9727 or contact us online and let's get started today!