Transform Construction Fencing Into A Vibrant Billboard
Grab the attention of passersby with banners on the fencing at construction sites or upcoming venues and events. Transform bare and ugly chain link fence into a marketing, promotions, and advertising opportunity with fence mesh. These full color premier graphics transform any location into a branding opportunity to get your message across to your clientele.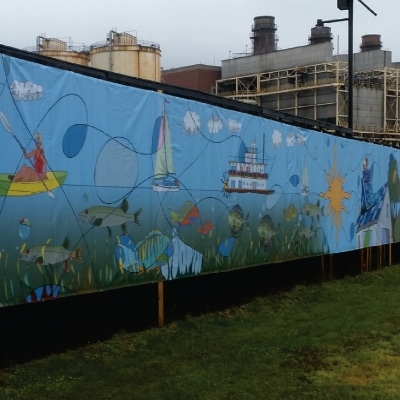 Fencing mesh is ideal for sporting events, retail centers, construction sites and parking lots. Many universities and sports organizations are upgrading their athletic facilities by wrapping their bleacher tops, bleacher backs and outfield and chain-link fences with full color fence mesh. Athletic directors and coaches say that not only does this beautify their stadiums, but also helps brand their programs for fans and prospective students alike. Recruiting also benefits as prospects can't help but be impressed by the way the stadium graphics sizzle!
When used as construction barriers, fence mesh banners hide the construction works and can also showcase architects, construction companies, building owners and retailers that will have locations in the finished building. When used for events and music venues, they can separate areas, block visibility and suppress sound to surrounding areas.
Signage Built To Resist Wind & Rain
Mesh vinyl banners are flexible, porous materials used for promotional advertising. The banners allow air and water to easily flow through making them ideal for fence banners, street banners, large format building banners, large outdoor banners, stage banners and stadium banners.
Mesh fence banners are like screen doors, permeable enough to allow 30% wind pass through so they don't need slits cut into the banner, obstructing the graphics. Mesh fence banners are used for high wind conditions because the wind can pass through the mesh fence banners like a screen door.
Build Impressions With Engaging Mesh Graphics
Call and speak with one of our experienced representatives about your next fence mesh project needs. We can work with you from design to installation; simply fill out our online request form or give us a call at 877.775.9727 today!