Show Off Your School Spirit With University Graphics!
College, university and school programs are constantly trying to engage students in campus activities. Whether it is the outdoor club, the student union building or sports facilities, your goal is to involve students to get the most out of their years at school. Capital Wraps' full color graphics, displays and signage are terrific ways of interacting with students and encouraging their participation. These graphics also beautify the campus and excite perspective students into attending.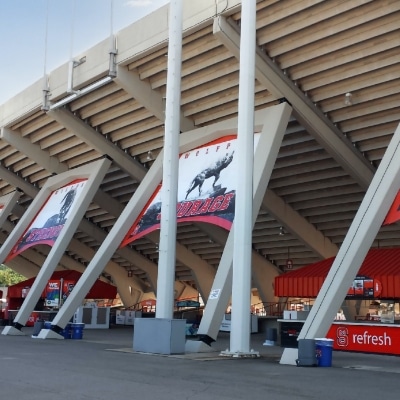 Help Your Teams Get In The Game
College athletics have been using wall murals, banners and other graphics to create excitement for their teams since time immemorial. Emphasizing team unity, togetherness and a winning attitude are important qualities that can be further accentuated with locker room graphics and signage. For special events, floor graphics on the court can brand the arena for the event.
"The locker-room murals really livened up the locker room, and adding the pictures and name plates to each locker has really brought the team together this past year. It has become a tradition to touch the forehead of the Wolf in the wall mural as the team heads out of the locker room to play their best and win." Justin Gainey, NCSU Basketball
Every athletic program can benefit from large format graphics. Football stadiums can be wrapped in outside murals on the walls and columns. Baseball fields lend themselves to full color fence mesh graphics to show off sponsors, the school and the team. Golf teams have locker rooms and buildings to showoff their victories and successes. These can have graphics and murals showing the current team and past All-American athletics stars. And lets not forget the athletic department headquarters itself; there is no better way of showing the schools successes. Murals of the athletic victories and the sport teams can showcase the school's spirit.
Convince Prospect Students To Make Your School Their Choice
How do you engage your perspective students? Murals are a wonderful way of setting the theme and atmosphere in the buildings. You can use them to tell the history of the school and point out the major events and influential alumnae and donors. If you have buses or shuttle vehicles, wrap those in your collegiate brand identity for driving on and off campus. Large format graphics are the best method for engaging students and improving the campus life. Student Union buildings are also wonderful areas for creating a positive student environment.
Promote Your School's Programs & Activities
Do you run an outdoor program and want to engage students to have them imagine their next outdoor adventure? What about an exciting summer camp for kids in the area? We can create a themed mural for your space to create ambiance and bring in the outdoor feeling, or craft signage to get children and their parents excited for what you've got planned. Any university project can benefit from bold, exciting advertising and Capital Wraps has a collective master's in marketing. Let us give your programs a dynamic visual upgrade!
Endless Options To Bring Your Campus To Life
We have used the follow graphic products at schools:
Wall Murals
Interior Floor Graphics
Fence Mesh Banners
Building Banners
Exterior Wall Mural on Brick
Banners
Way Finding Signage
Eco-Friendly Signage
Exterior Floor Graphics
Ceiling Murals
Stand Up Displays
Pop Up Banner Stands
There are numerous ways to use wraps to help brand your universities, programs and activities for students and prospective students. You already have graphics on your security cars; why not on the vans, cars and buses that transport students? Bring your identity onto all your shuttles and campus vehicles. Window graphics on administration buildings and student centers can help demonstrate the college lifestyle that your school is known for. We can add a history of the school onto a mural to help convey your rich past and achievements.
Consider Capital Wraps For Admission!
If you're ready to give your school a thrilling new image, then it's time to give us a call! Reach us at 877.775.9727 or use our online contact form. We'll take you through consultation, design, production and installation - and when we're done, your school's look will definitely pass the test!