Eye-Popping, Multi-Purpose Architectural Graphics To Transform Your Space
Are you tired of your building having the same drab, lifeless walls? Do you have windowed offices that need some privacy? Have people spend a lot of your time asking for directions? With corporate signage or architectural graphics, professionally designed and produced by Capital Wraps, you can have a solution to all of these while at the same time remaking your space into a unforgettable and impactful visual experience.
Our corporate sign systems use cutting-edge materials, expert installation and state-of-the-art UV and scratch protection to ensure your new graphics seamlessly integrate into your existing architecture and are protected from sunlight or other damage. When you're ready to give the green light to a memorable makeover, call us at 877.775.9727 today!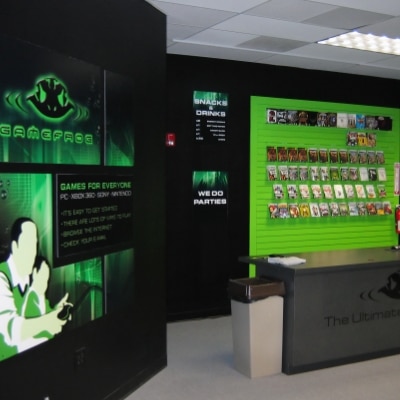 Four Types Of Signage To Fit Your Every Need
Capital Wraps specialists in four kinds of large-format graphics, all of which can benefit your company or organization:
Custom Wall Coverings - Beautiful, vibrant graphics custom-designed to your needs. Wall coverings can make for effective advertising, useful wayfinding or inspiring visuals. We print on high-end substrates with low-VOC ink, and our coverings can attach equally well to smooth or rough surfaces.
Interior Glass Designs - Glass coverings can create a unique and modern look for your space, while also providing added privacy, wayfinding and additional safety. Our coverings can be designed to have a traditional etched-glass or stained-glass look, and include gradient or ombre patterns to further distinguish your look.
Corporate Signage - Let people know who you are! Our corporate signage adds additional dimensions of awareness with 3D lettering and designs that will catch every eye. Capital Wraps designs their signage in acrylic, metal or PVC depending on our client's needs.
Silicon Edge Graphics - Our graphics aren't limited to being flat against the wall - our silicone edge graphics (SEG) feature special frames and silicon end-strips that mount to them, giving you the flexibility to easily change out your signage on your own
More Than Meets The Eye
Most people think of architectural graphics as functioning in only a visual way, But there are a host of other benefits you can enjoy with our corporate signage solutions:
Employee Morale - Graphics can create a pleasant and comfortable work environment.
Safety - Window graphics help the clear glass to stand out, to help avoid accidents.
Brand Image & Awareness - Convey information about your organization and what it stands for that integrates with your existing space.
Sound Absorption - Our graphics and signage can be designed with materials that help to absorb ambient sounds to assist with meeting space or office privacy.
Fire Rated - We only use materials that have high fire safety ratings so they don't contribute to spread.
Environmentally Friendly - Our materials and process are designed with the Earth in mind; low-VOC inks, printing straight to substrate, efficient cutting to reduce waste and recycling of all eligible materials.
At Capital Wraps, We Do It All!
Here are just a few examples of some of the many applications for our architectural graphics and corporate signage:
Order Your New Space Today!
Ready to energize your organization and supercharge your brand? Let us be your partner in developing gorgeous, attention-grabbing graphics that can liven up your space. Send us a message online or call us at 877.775.9727 today!