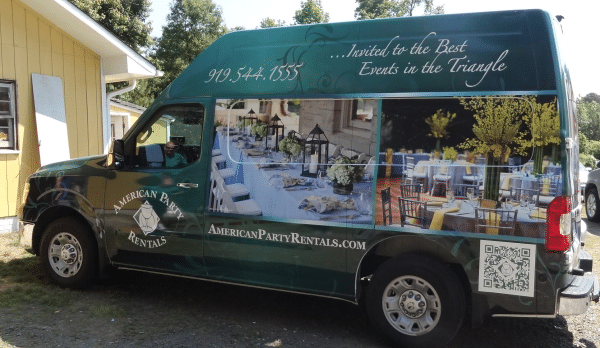 This Van invites you to look again. The imagery is beautiful and elegant.
The images of the dining area on the back make you want to be invited to whatever party is going on inside. I'd definitely consider using American Party Rentals for any party event I'm planning in the future.
Vehicle wraps have become a critical part of many companies' marketing, promotions, and advertising plans. By wrapping their cars, trucks, vans, and box trucks, they increase brand awareness and client conversion as much as any other form of advertising dollars. As the effectiveness of advertising on television, on the radio, and in newspapers lessens, car wraps and vehicle wraps have become a proven solution. They combine the essential aspects of marketing, promotions, and advertising into a single package to address clients.
Sport utility vehicles (SUVs) and mini vans are extremely popular vehicles for families, soccer moms, construction workers, and businesses alike; they are also very popular for vehicle graphic wraps. With the big surface areas they create dynamic colorful effective wraps. The bigger the area of your vehicle the larger your moving billboard and the more attention you will grab.
Vehicle wraps allow all your vehicles to become brand identity billboards for your company, product, or service. Vehicle wraps are the most effective form of advertising in the market today. Capitalwraps.com is a proven leader at turning your vehicles into mobile billboards.
A Capital Wraps car wrap generates between 30,000 and 70,000 views per day.
Vehicle wraps are the most cost effective form of advertising. Vehicle wraps, for the price, produce the highest impression per dollar. This means that as you drive everyone around sees your vehicle, every day, every time you drive. Your company car is a mobile billboard. It is the best method for capturing customer awareness for your brand. Even if you have the best product and service, your customers still need to be able to find you. Read more about vehicle wrap industry statistics here.
Capital Wraps is one of the premier vehicle wraps companies in the world. Combined our team has designed, produced, and installed thousands of projects for clients across the world. Our experienced team encompasses talented designers, the newest printing technology, and professional installers capable of meeting all our project needs. We handle your whole project from start to finish.
Capital Wraps Operations
Quotation
By either filling out the form or calling our staff we will get your estimate rolling. In order to provide you with the best estimate, we will need details about your project, what type of vehicle (year, make, model, and color), your company information (name, website, and contact information), your budget, and if you need design. Our customer service representatives will send you out a quote within 24 hours and follow up to make sure you received it and if you have any questions. Have a competitor quote already? No problem–we will beat it!
Design
We employ a professional, experienced design team to work directly on your project from concept to output to make sure your design is the most effective for your company. All of our designs are custom; we don't reuse existing files or simply drop your logo onto a background. The initial consultation is part of our design process where we strive to understand your company, your brand, and who your clients are. Then we build three concepts designs based on your input for you to review and select. We don't believe that simply providing a single design is sufficient, it doesn't give you options. So we give you three. Then we work with you to build a full rendering to finish out the vehicle design and send it off to printing.
Printing and Production
Since we purchased the state of the art large format graphics printing equipment, we can produce the most vibrant and eye-popping graphics on the market today. We output the files onto the 3M, Oracal, Avery, or Arlon film per the manufacturers' specifications finish it with a match-component laminate and prepare the graphics for installation. We constantly monitor the printing quality and output to make sure we have the highest output product.
Installation
We understand your time is valuable and we want to minimize the amount of time we take your vehicle to apply the graphics. Therefore, we will schedule your install 7-14 days out from when you approve the artwork to make sure you have adequate lead time, and to work in your schedule. All wraps are done in climate controlled environments and our installers follow all the UASG, PDAA, and 3M installation procedures and guidelines to give you the best install and the longest wraps.
We offer a complete service for single vehicle and fleet clients; this includes initial consultation, designing, printing & production and installation. All of our vehicle graphics are printed using warranted print materials and installed by our own professional and experienced installation team.
Capital Wraps is a premier Custom Wraps and Graphics company is located in Washington DC. For more information on vehicle wraps, fleet wraps, or our other graphic products please contact Capital Wraps at 877.775.WRAP or visit www.capitalwraps.com