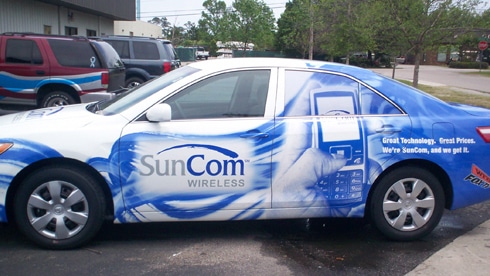 With this new form of advertising there are lots of questions about what it is and how this works. Here are some basic questions we discuss with all of our clients as part of our educating our clients about car wraps.
What Is A Vehicle Wrap?
Vehicle wraps are computer generated artwork that are digitally printed and applied to any surface such as autos, vans, trucks, buses, boats & planes. Basically it is a giant sticker applied to your vehicle.
Will It Damage My Car Paint?
In most cases vehicle wraps will not damage factory paint jobs. It is important to talk with your supplier and possibly pre-test your paint job prior to wrapping with vinyl. Paint in poor condition may peel when vinyl is removed.
Why Consider Using A Vehicle Wrap Advertisement?
Simply put you get the most views from potential customers for every dollar spent. This is great for targeting local customers. According to Arbitron studies, a well designed vehicle wrap can increase local business 20% to 70%.
Do I have to get the entire vehicle covered?
A full vehicle wrap provides the most dramatic effect when converting your vehicle into a mobile billboard. We can also do partial graphics, these include:
• ¾ Wraps work well on cargo vans as we wrap from the doors back which is the critical usable area;
• ½ Wraps also work well and can either be below the windows or the rear half of the car;
• Large Decals can be extremely effective for more artistic graphics and cost conscious clients.
Visit Capital Wraps galleries to see the different types of coverage and designs.
How Long Will A Wrap Last?
While it depends on the type of material used, for vehicle wraps we strictly use Premium Cast Vinyl that yields the best result with the longest life. Typically 3-4 years with a professional installation. Qualified installers follow specific protocols for installing that insures the wrap success and warranty coverage.
Can I See Through Vinyl On The Windows?
Yes, you will be able to out of the windows because we use a perforated window film for the windows. See-Through Window Film vinyl is perforated with very small holes that will allow you to see out. With the film on the window it could look a little blurry, but you will be able to see out of it. On some vehicles, like the Toyota Prius, we do NOT recommend wrapping the rear window because visibility is almost zero and this can be dangerous.
Can The Wrap be Removed?
Yes, we recommend a professional remove the graphic within the lifespan of the product; typically 3-5 years. All vehicle wrapping vinyl is design to be removable within that time span. If removed by a professional there will be no adhesive residue and your car will be as clean as the day it was originally wrapped.
If my car and wrap are damaged, do I have to replace the whole wrap?
No, we can only replace the portion that was damaged. We recommend replacing the whole panel i.e. is the door is scratched, we would replace the whole door.
Is the wrap covered under my car insurance?
The need for commercial insurance is something you need to check with you insurance provider. But, yes we do work with all major insurance companies to replace damaged wraps.
How Do I Care For My Wrap?
Hand washing is best. Try to avoid high pressure washes and be careful never to use an ice-scraper on window graphics. There are specially designed products to clean and polish vinyl graphics so ask your supplier.
What if I don't know if a wrap would be good for my company?
Our professional staff would be happy to discuss your marketing plan and see how a vehicle wrap could enhance your presence and brand identity.
Do I have to bring my car to your shop?
We can wrap your vehicle local or national. We have a nationwide network of qualified professional installers and can guarantee the quality of work wherever we perform your install. Our staff will handle all of the coordination and all you have to do is drop off or meet the installer and they will wrap your vehicles.
How long will it take to get my car wrapped?
We can install your wrap within two (2) weeks of you approving the artwork. We will need your vehicle at our install facility for 2-3 days to do the actual install.
Capital Wraps is a premier Custom Wraps and Graphics company is located in Washington DC. For more information on vehicle wraps, fleet wraps, or our other graphic products please contact Capital Wraps at 877.775.WRAP or visit www.capitalwraps.com