Faygo originally opened it doors in 1907 when Ben and Perry Feigenson, two Russian bakers, launched Feigenson Bottle Company with 5 soda flavors. Faygo was purchased by National Beverage Company in 1987 and taken its place in the national soda market.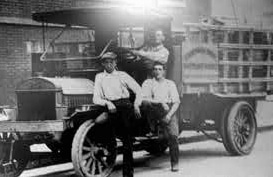 The company purchased it first delivery truck in 1920; it featured painted lettering on the sides with the company name. Since then it has rolled out a fleet of delivery bottle trucks nationwide to support its clients and when these were used to launch the new logo for Faygo in a national fleet wrap rollout.
Capital Wraps supports numerous fleets across the country as well as in its home territories Washington DC, Virginia, North Carolina, and South Carolina. Capital Wraps install team has wrapped over 1000 vehicles and produces flawless and beautiful installs for every client.
Beverage trucks and trailers pose a special difficulty and require a level of professional expertise to install properly – Capital Wraps Installation team is capable of meeting all fleet wrap needs from van wraps, box trucks, even a fleet of Prius wraps. Contact us today to speak with an account manager to see how we can be your one stop solution for your vehicle wrap and fleet wrap needs.