Dealerships have a myriad of spaces available to them on their building. If your facility is lucky enough to have a full size billboard on your facility, this is a wonderful opportunity to capture a evolving brand and advertising that constantly bring in new buyers.
We worked with a Chevy dealership that had a contract with the local billboard company for the year and when it was over they decided not to continue. When the Ford dealership across town bought a 3 month run on the billboard the owner was furious. Fortunate for him he repurchased the contract after the short period and is now permanently on it to prevent competition from advertising directly in front of his location. When discussing this opportunity we helped him establish a evolving graphics campaign to change out the graphics quarterly turning this into an opportunity instead of a fiscal burden.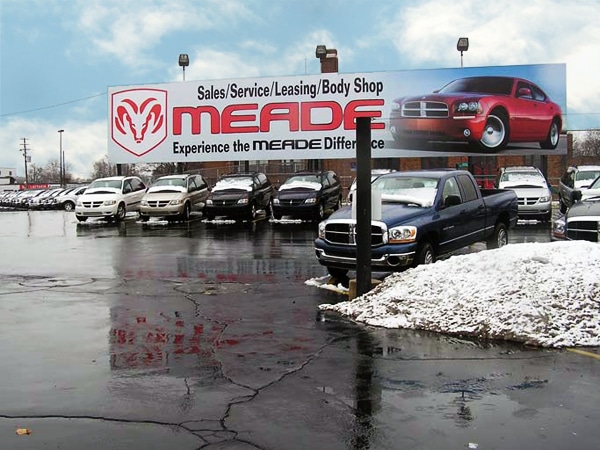 Capital Wraps dealership graphics are one fantastic opportunity to create compelling graphics that compel buyers into your retail location. There are thousands of compelling announcements that garner attention including
Announcing the latest cash back – $1500 CASH BACK
Custom financing programs available – NOW ONLY 0.0% FINCANCING
Vehicles that get good gas — THE CHEVY AVEO GETS 55-75MPG
Monthly lease pricing – DRIVE AWAY FOR $189/MONTH
New Model Products Release – NOW THE NEW 2011 MUSTANG
Call Capital Wraps today to see how we can create a outdoor dealership graphics outdoor advertising program for you. We readily work with dealership in DC, Raleigh NC, Wilmington NC, Myrtle Beach SC, Charleston SC, and Baltimore MD areas. We supply dealerships with vehicle wraps, interior dealership graphics, window graphics, floor graphics and much, much more.