Sporting Event Signage
Most major sporting events have no shortage of signage during, before, and after the game – American Corporations love to sports venues because the advertising works. From baseball stadiums, to basket ball arenas, to football and soccer fields, there are a myriad of advertising sign spaces to get your company's brand in front of your local perspective clientele. If your company involved selling to consumers, you should seriously consider a sports sponsorship advertising and sign campaign targeting popular local sporting events, schools, and community fields especially if the games are well attended. Here are several ideas to consider.
Softball and Baseball Fields
Dugout and outfield signs are common place as the designated hitter rule. With seven (youth leagues) or nine innings there is lots of time to see and absorb your advertisements. Many areas have minor league teams that are extremely less expensive than the majors and even community or school fields are good venues for which the sponsorship help fund the locals teams – an excellent cause.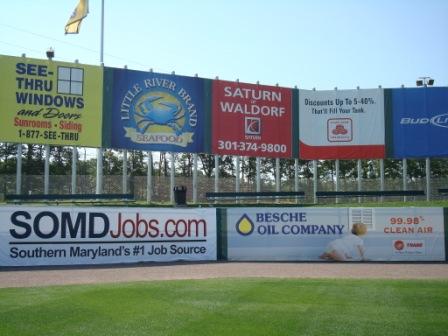 Ice Skating and Hockey Rinks
These venues provide multiple areas for signs spaces which can range from dasherboard graphics, handing banners, extra large wall graphics to our favorite, floor decals. Many times the rinks are rented almost 24 hours a day and pull large audiences during hockey games; both of which create lots of visibility.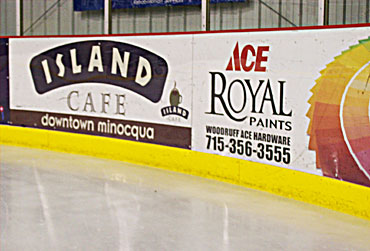 Football Fields
Come fall all levels of football leagues start up, whether it is the Pop Warner League, High School teams, or other community league, your sign will be seen for every kick off and touchdown. Sponsors typically can purchase space on the scoreboard, field signage, bleacher signs, and fence banners.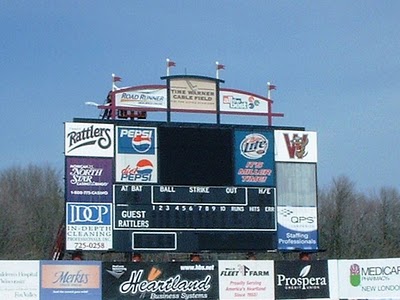 Soccer Fields
Soccer has been brought to the attention this year with the world cup and the US Team had a great run for the competition. But it is the local soccer teams that are going stronger than ever; and this also represents one of the best opportunities that is usually overlooked. Where many fields are not fenced in, the obvious banner space detracts from this opportunity, but there are other sign systems that can be substituted providing temporary or permanent sponsor signage.
Basketball Arenas and Gymnasiums
Like the other sports, basketball is a sports venue that should be considered when looking into sponsorship opportunities. Besides the more common banners handing from the rafters, floor decals are a fantastic way of getting your logo placed highly visible on the court or halls.
Many of these athletic leagues look to companies to sponsor the teams to rent fields, buy uniforms, purchase equipment, and hire professionals to officiate games. By working with local youth teams or adult teams your sponsor will go far and your company's sign will be seen throughout the community. It is a plus for everyone.