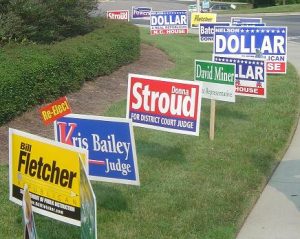 Capital Wraps was recently approached by a local community looking for us to provide graphics and signage for a upcoming campaign. We were of course happy to be working and to provide captivating banners, signs, and displays for them with wonderful graphic elements and fonts. As the mid-term elections approach, we are thrilled to be a part of their campaign and to see our yard signs and banners out in the community; moreover, I was thrilled they had a positive experience when working with our company.
We have provided other behind the scenes work for other elected officials, bond measure and other measures through out the past several years. We are able to offer complete range of signs, bumper stickers, banners, and a vehicle wraps for politicians. I would ask our readers to help us get the message out about our capabilities as a political wraps advertising company. Some if you know of local parents groups, politicians, and other who are running for new office or re-election, please pass the work that Capital Wraps has and will continue to support individual and groups ballot measures, political campaign signs.
Contact a Capital Wraps representative today in DC, Maryland and Virginia at 202-573-9727, North Carolina at 919-665-8143, and South Carolina at 843-882-5331.