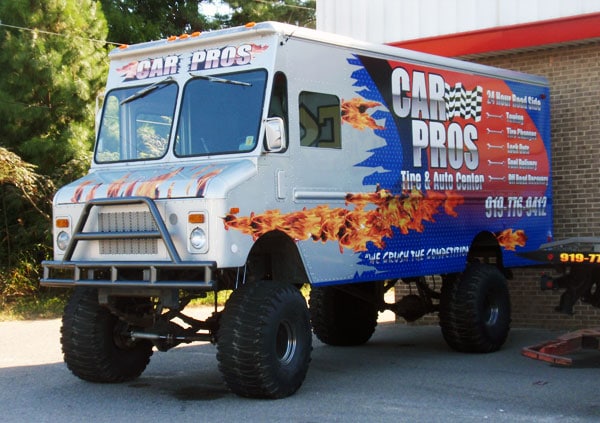 Raleigh, NC – Working with mechanics who have a vision and understand the value of marketing and making a buzz in their community is a real treat.  This project we were approached by a Tire and Auto Center who was interested in a serious off road vehicle.  This would be different than the standard around town car because it has 40" tires.
They had dreamed about a converted bread truck – delivery CJ30 that is typically used by delivery companies like UPS.  When this project would be finished, it wouldn't be your standard UPS package delivery vehicle – it would be a monster truck to compete against Grave Digger, Virginia Beach Beast, and Maximum Destruction.  Car Pros modified the vehicle completely prior to the graphics installation.  The end result of the modifications were a 4 wheel drive with a large block bored V8 engine and a 15" lift kit to accommodate the monster tires capable of Crushing The Competition.
The concept behind the graphics was to focus on the company name and branding and listing the services.  They wanted preserve the rough-and-tumble mechanic look and of course flames were necessary complete the tough competition crushing look. Don't get Cranky, Vehicle Wraps can crush the competition.
When the vehicle isn't out smashing it way through flattened cars, it sits in front of the Car Pros shop; and this huge billboard captures attention and draws awe and people into the shop.  Car Pros offers complete range of auto maintenance from towing, and road side assistance to oil changes, tires and scheduled maintenance.
See how Capital Wraps can help you create brand awareness and draw monster attention for your company through vehicle wraps and large format graphics.  Download a free van wrap marketing kit now or call us at 919-665-8143.
Download Your FREE Van Wrap Information Kit HERE
Capital Wraps is a premier Custom Wraps and Graphics company is located in Washington DC. For more information on vehicle wraps, fleet wraps, or our other graphic products please contact Capital Wraps at 877.775.WRAP or visit www.capitalwraps.com