Here is a throw back to our first large boat back in 2009.  We were tasked by Cummins Marine to help with their launch of their Zeus turret propellers.  This was the world's first quadruple Zeus®-powered vessel is coming to the 2009 Miami International Boat Show, and it was to be the most recognizable boat at the show.   QuadZeus.com is a 60-foot convertible, powered by four Cummins MerCruiser Diesel QSC8.3-liter 600-hp engine/pod units, giving it joystick maneuverability and outstanding speed and range. The boat was on display at the show in Pier 1 at Sea Isle. 
Here is the Link to the video of the boat being wrapped and completed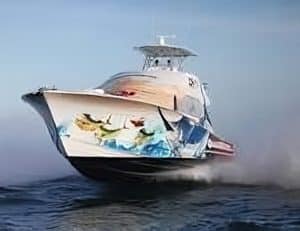 The central design part of the boat was a 30-plus-foot blue marlin on both sides of the hull, chasing a Goione-signature lure and a school of mahi mahi. The superstructure is adorned with a CMD logo and the marlin's tail, set against a sunset-sky background. The transom art intertwines the name of the boat with four twin propellers, alluding to the four sets of counter-rotating props hidden beneath the boat. The design of the fish wrap goes to the renowned marine artist Steve Goione from one of his painted murals.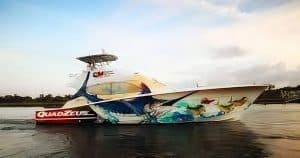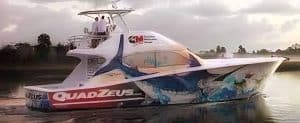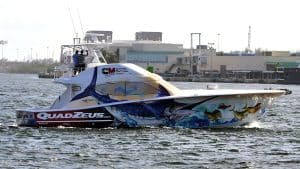 With Goione's drawings of a game fish, the layout was created that was appropriate for the boat, then made a computerized template of the scene. The boat itself was carefully measured and photographed, and, to ensure accuracy, we worked from a 5-ft. model of the boat to complete the template. The design phase took about a month and a half to complete.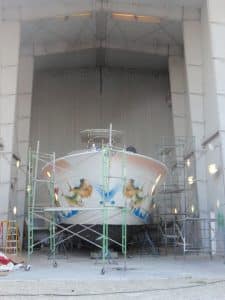 We were involved in the final layout, prepressing to make sure the final printed image looked like the proof supplied, and the installation of the boat wrap.  This wrap was printed on 3M ij180 film with a 8518 gloss overlaminate.  This was a fun project and took 4 days to install with 3 installers.  During renovation, we discussed the existing surface and addressed it with Cummins about prepping the surface, and to was easiest to painted the entire hull and super structure prior to installation to make sure there was a good surface and edges where the wrap was not going.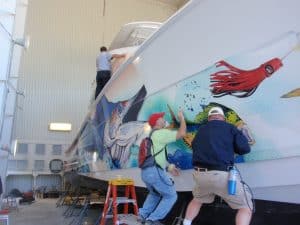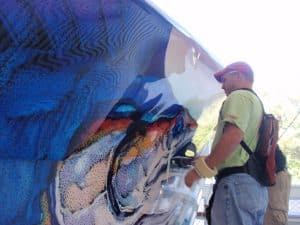 The whole project came together and the boat was at the 2009 Miami Boat show and the Fort Lauderdale boat show.  This was a first of many 50+ boat we have printed and wrapped over the past 15 years.  Thanks Cummins.