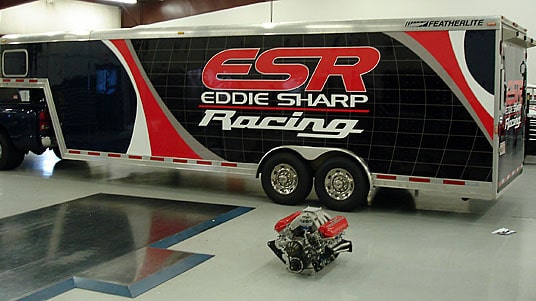 Charlotte, NC — Capital Wraps worked with Sharp Gallaher Racing to install the new vehicle graphics onto the damaged trailer. The trailer has sustained some damage during the previous year and the blue trailer had several panels replaced. In stead of repainting the entire trailer, the team opted to do a partial trailer wrap and cover up the exposed area with eye catching graphics. The partial wrap used the navy blue of the trailer as the background and created a dark wrap to set off the graphics and logo.
It was a real honor to work with this team, the crew was extremely friendly and the shop was immaculate. The ESR Crew team was setting up for the next race the 2010 Arca Re/max Race, The Allen Crown 100, at the Illinois State Fairgrounds this coming weekend.
ESR is currently the reining champion of the Arca Racing Series and in 2009, ESR Caps off season with championship at Rockingham Race Park. Drive John Lofton. Having lost the second place start, Lofton maneuvered his way through the field to finish third, locking up the 2009 ARCA RE/MAX Series championship by just five points over race winner Parker Kligerman.
Capital Wraps is excited to be working with the Arca cup teams and wishes the Eddie Sharp Race team the best at holding onto their victory.