When it comes to motivating your sales team and creating a vibrant, dynamic work environment, few things are as effective as corporate wall murals. These larger-than-life works of art don't just adorn your office walls; they breathe life into your workspace and inspire your sales force to reach new heights.
At the heart of this inspiring transformation are two key mural concepts: The Customer Experience (CX) mural and the Hall of Fame mural. These aren't just wall decorations; they're powerful tools for boosting morale and performance. Here's a closer look at how these ever-evolving murals can redefine your sales space: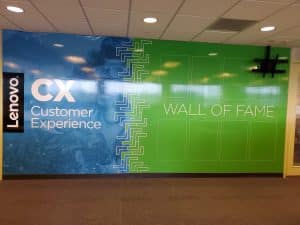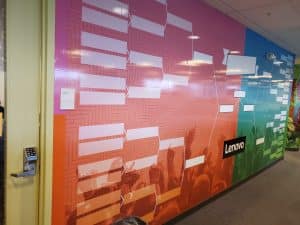 The Customer Experience (CX) Mural:
The Customer Experience mural is a dynamic canvas that tells the story of your organization's commitment to excellence in serving your clients. It's not just about pretty pictures; it's about showcasing the values and dedication that make your company stand out. This mural serves as a constant reminder to your sales team that customer satisfaction is at the core of everything they do.
Every quarter, this mural can be updated to reflect the latest success stories, positive feedback, and memorable customer interactions. The changing nature of this mural keeps your team engaged and motivated, as they see their collective efforts celebrated on the walls of the office.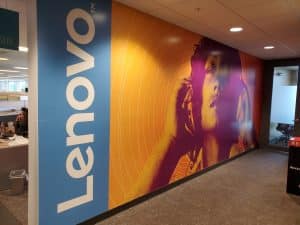 The Hall of Fame Mural:
The Hall of Fame mural is all about recognizing and celebrating your top sales performers. It's a tribute to the champions of your sales force who have gone above and beyond to achieve outstanding results. Their faces and achievements are proudly displayed on this mural, and it serves as a source of inspiration for your entire team.
By updating the Hall of Fame mural every quarter, you not only give everyone a chance to be recognized, but you also instill a sense of healthy competition. Your sales team will strive to earn a spot on the mural, and the ever-changing nature of this mural keeps the motivation levels high.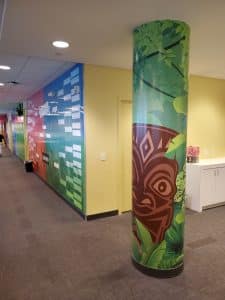 Why These Murals Matter:
Motivation: Corporate wall murals have a powerful motivational impact. They remind your sales team of your organization's commitment to excellence and celebrate their individual and collective achievements.
Engagement: The ever-changing nature of these murals keeps the workspace fresh and engaging. Your team will look forward to seeing what's new on the walls every quarter.
Team Building: The Hall of Fame mural fosters healthy competition while the CX mural reinforces the idea of working together for customer success. These concepts promote a strong sense of teamwork and camaraderie.
Branding: These murals reinforce your brand identity and values. They show clients, visitors, and team members alike that you are dedicated to providing excellent customer service and recognizing your sales leaders.
Creativity: The murals themselves can be an outlet for creativity. You can work with talented artists to create custom designs that reflect your company's unique culture and message.
In conclusion, corporate wall murals are not just decoration; they are strategic tools for enhancing your sales environment. They celebrate success, foster motivation, and reinforce the values that drive your organization forward. By updating these murals every quarter, you keep the energy high, the competition healthy, and your sales team inspired to achieve greatness. So, what's on your office walls? It's time to turn them into an ever-evolving source of inspiration and motivation for your team.