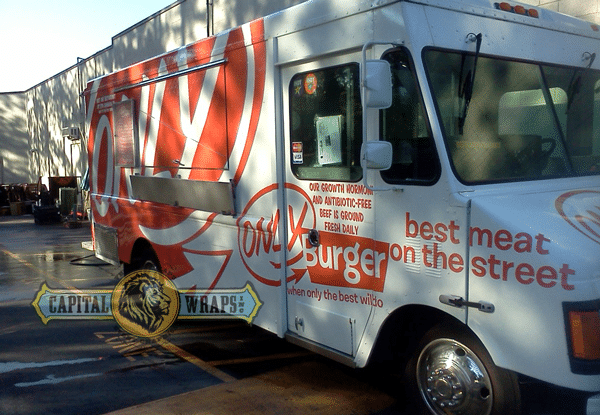 Exciting things are rolling around in the Triangle these days.  Food Trucks are all the rage in Raleigh and Durham and people are flocking to them to fill up on the tasty treats they provide.  There is no question the food has to be delicious and of good quality for residents to show up, stand in line, and wait in cold temps to partake from their favorite vendors; but how do truck vendors catch the attention of a newcomer?  Word of mouth alone is a solid, but slow way to advertise.  However, an outstanding, unique, head turning truck wrap is one way to stand out in a crowd, and the very best way for new customers to see and understand what each vendor provides.
Food Truck Wraps aren't like banners or billboards placed outside the truck and are only useful when the truck is parked and in operation.  A Food Truck Wrap advertises 24 hours a day and everywhere the truck travels.  Truck wraps are a brilliant form of mobile advertising, recognizable in a glance, fun and creative, and a wonderful way to incorporate and promote your delicious wares and branding.
Local Food truck vendors are known on sight by their wraps.  If you have a food truck business, but don't have your image or branding worked out yet, we can help.  We have in house designers to help you create a concept for your truck.  Don't feel overwhelmed if you aren't sure what you want or how to go about achieving the look and feel of your wrap.  We guide our clients through every step of the design process and give you 3 options to choose from.  These elements do not cost extra, they are included in the price of the wrap.
Lastly our wraps are all installed by professional certified installers, and we use only top quality 3M material for our wraps.  What good is the creative process of designing a beautiful wrap if the printed materials are on cheap vinyl or installed incorrectly?  At Capital Wraps we take pride in the creative process of what we do, from the initial concept of a project, to the printing of the material, to the installation of the vehicle wrap.
Contact our staff to help your Food Truck wrap project
Call our experienced staff to speak with a representative about your wrap project. We have worked on rush orders and tight timelines to make our clients' events and launches successful and vibrant. We offer a complete service for single vehicle and fleet clients; this includes initial consultation, designing, printing & production and installation. All of our vehicle graphics are printed using warranted print materials and installed by our own professional and experienced installation team.
Capital Wraps Inc. is a premier vinyl and large format graphics company specializing in custom creative solutions for vehicle wrap advertising.  We provide professional installation services across United States and Internationally.  Capital Wraps Inc. produces quality, high resolution graphics which deliver incredible marketing exposure.   Large format visual imagery applied to fleet vehicles, vans, trucks, and cars make a trememdous statement traveling across our roads and highways.  Any vehicle, from buses to motorcycles to boats and golf carts can be utilized as a forum for mobile advertising.   Capital Wraps Inc. also provides a mobile installation service resulting in very little downtime for your vehicle.
Call toll free 1-877-775- WRAP for a more in depth discussion about your specific vehicle wrap needs.  We will help you get the exposure your company deserves.
Capital Wraps is a premier Custom Wraps and Graphics company is located in Washington DC. For more information on vehicle wraps, fleet wraps, or our other graphic products please contact Capital Wraps at 877.775.WRAP or visit www.capitalwraps.com