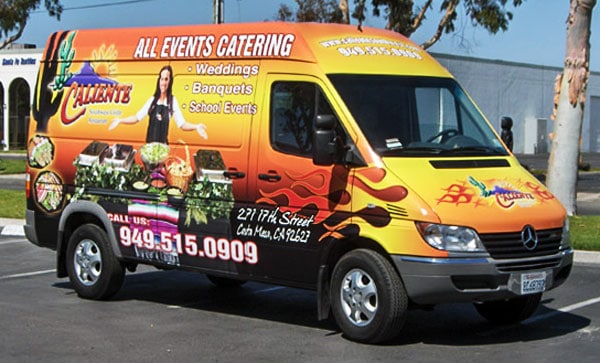 Are you considering using your company vehicle to promote you business?  It is the best way to increase your visibility around the community.  We have discussed pricing in other blog postings and the price of the advertising program can depends partially on the amount of coverage. We have also down clients who have put full wraps on their vehicle as well as partial wraps, and some who have put on large decals.  So whether you are wrapping a hummer, car, truck, Scion, or Lexus we have many options effective advertising for your vehicles.
Vinyl Auto Decals vs. Vinyl Auto Wraps
Vehicle wraps use vinyl material from reputable companies like 3M, Avery, Oracal, MacTac or LG and all provide warranty to ensure longterm quality of the graphics wraps.  This type of vinyl material is required for both longevity as well as conformability – being able to smoothly install over complex curves of cars.
Full Wraps are just what they say, complete coverage – on smaller vehicles like Scions and Beetles the roof get wrapped, while larger vehicles like cargo vans and F150 trucks the roofs are not wrapped as they are not easily seen.  Every part of the vehicle is wrapped including legal windows have see-through vinyl, bumpers, and other surfaces.
Partial Wraps are a mixture between full wraps and decals, they cover substantial parts of the vehicle and can range from ¼ wrap to ¾ of a wrap.
Auto Decals on the other hand cover only small parts of the vehicle and are similar to magnets although they can be any shape.
The biggest difference between these three options is their effectiveness and the perception of your company.  Having simple 1 color cut vinyl lettering on your vehicle tells one story about your company, where as the car decals says another and a full wrap says a something completely different.
The story you branding and advertising your business has says a lot about your business philosophy.  If you take pride in your branding and full vehicle wrap your clients will look upon your vehicle and business with that same level of confidence.  Look at the Tech Ease wrap, if he care so this much about his brand then he puts this much attention and care into everything he does especially how he interacts with his clients.  Show them how professional you are and what you can do for them.  You can upgrade your business by crafting a professional image with your creative car wrap.
Pricing
The pricing different between full vinyl auto wraps, partial wraps, and vinyl car decals is quite distinct.  Vinyl auto decals range from $250 to $1250; partial wraps range from $1000 to $2500, and full vinyl car wrap range from $2000 to $4500.  These pricing depend the type of car, complexity of the wrap, type of material, and of course coverage.
This form of advertising had considerable value and if your spend thousands of money on a website, equipment, or other areas of your company, then you should consider cutting costs on the your first tough point with your customer and invest in a well design brand and wrap.  Most wraps last between 4-5 years and if you average that costs over that time you would see that the price is as low as $53/month. 
Design is the Most Important
Creating a well designed vinyl car wrap is the most important aspect of vehicle wraps process.  Whether it is a partial wrap, full car wrap, or vinyl car decal having a design that is clear, clean and effective is a necessity if it is to be effective. Potential customers seeing your wrap will have only 3 second to take away:
1)   What you do
2)   Visual imagery of the results of what you do
3)   Contact information – website or phone number
4)   Call to Action
A nicely design partial wrap or vinyl car decals can be as effective as a full vinyl car wrap if it is designed properly and take the car's paint job into account.  Partial wraps when produced well can be an excellent alternative to a full wrap if the company is on a strapped budget.
Bottom Line:
You could be creating brand confidence with full vinyl car wraps, partial car wraps, and vinyl auto decals.  by putting a full-coverage vinyl car wrap on your vehicle converting it into a billboard on wheels.
Vinyl car wrap advertising boosts name recognition 15 times greater than any other form of advertising.
Don't forget to check out Capital Wraps Vehicle Wrap Marketing Kit! Learn why a car wrap can be a powerful investment for your business, as well as tips for figuring out what type of advertising is suitable for you.
Capital Wraps is a premier Custom Wraps and Graphics company is located in Washington DC. For more information on vehicle wraps, fleet wraps, or our other graphic products please contact Capital Wraps at 877.775.WRAP or visit www.capitalwraps.com