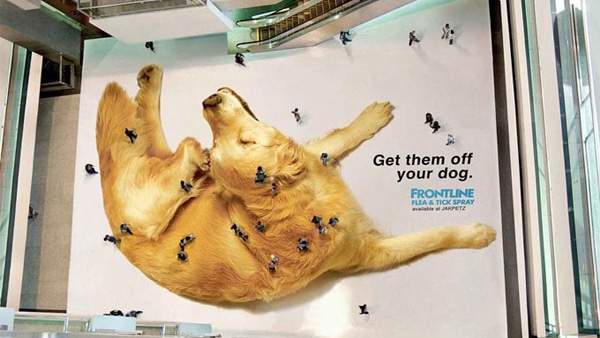 Merial's Asian branch worked closely with their advertising partner to concept, design and produce this extra large mall floor graphics. In a place where the malls run more vertical with multiple floors, this floor graphic provides the illusion that the people on the ground floor look like the ticks and flees walking that you are trying to get rid of on your family dog.
The ad, for Jakarta's pet emporium JAKPETZ, promotes Frontline Flea and Tick with the slogan 'Get them off your dog.'
This is an extremely effective us of the environment to help hold the theme behind the advertising campaign. More and more companies seek out creative advertising companies to develop these interactive, novel, and creative advertisements. Why? Because creative ambient ads work.
Perwanal Saatchi & Saatchi in Jakarta, Indonesia, created this with the team Chief Creative Officer Andy Greenaway, Executive Creative Director Juhi Kalia and Art Directors Aryanto Salim and Joel Clement.
Contact Capital Wraps to see how we can work with your company to devise an innovative advertising that can reach people in their everyday life. We have worked on countless campaigns and can make your brand and product capture your client's attention.