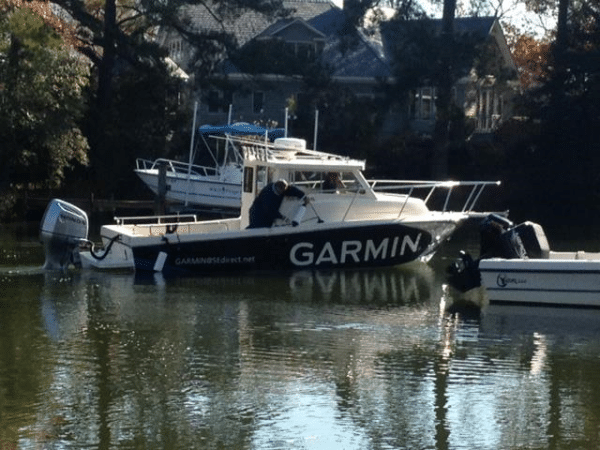 Boat Wraps
We recently wrapped a beautiful boat for Strohman Enterprise.
Here is a comment Joe Strohman sent to us:
"Your wrap is AWESOME!!   We just finished a 1 week Search and Rescue course in Hampton VA.  We towed boats, were towed, bumped things.  BoatUS was so impressed with how tough the wrap was that they are planning on wrapping their boats (I gave them your information).

With all that we have a couple of tiny "beauty marks" but it held up like a champ!"

-Strohman Enterprise
Thank you Joe!  We appreciate your feedback on our wrap!
Boat wraps are an excellent way to promote your product, team, or dealership. In the marine industry, wraps are the most common method for announcing sponsorship, team image and company brand. Marinas are no exception for their ability to advertise to perspective clients. In fact, boats are moving billboards when traveling to and from the marina or in competitions where spectators and sponsors will see your wrap.
Many of Capital Wraps initial boat wraps were professional bass fishing boats for sponsors to get their name in front of the camera for TV coverage. Our recent run of boat wraps has been with pleasure craft from ski boats and wakeboarding boats to a pontoon boat or two. These pleasure boaters are looking for a method of sprucing up an older boat with a fresh new look with vibrant graphics. Whether these graphics are tribal-based or reflect an old military PT boat style, our design staff can accommodate your design needs and provide the theme you are looking for in your boat graphic wraps.
So whether you are a professional tournament bass fisherman, weekend ski or wakeboarding enthusiast, or captain a performance in shore or offshore boat, Capital Wraps can turn your boat in to a vibrant, eye-catching symbol that will make waves on the lake or ocean when you take it out. Once installed our graphics are fully warranted to bear the brunt of the hard exposure to marine environments. You and your boat deserve the best full-color graphics to showcase your boat from the marina to the open water.
Our 3M installers have done hundreds of boats. Marine wraps are fully warranted and are better than repainting, don't require airbrushing and will not harm the boat's hull. We have wrapped a collection of bass boats, wakeboarding boats, inshore and offshore boats and can wrap even up to a 62′ Hatteras yacht.
Capital Wraps is one of the premier vehicle wraps companies in the world. Combined our team has designed, produced, and installed thousands of projects for clients across the world. Our experienced team encompasses talented designers, the newest printing technology, and professional installers capable of meeting all our projects needs. We handle your whole project from start to finish.
Capital Wraps is a premier Custom Wraps and Graphics company is located in Washington DC. For more information on vehicle wraps, fleet wraps, or our other graphic products please contact Capital Wraps at 877.775.WRAP or contact us online.