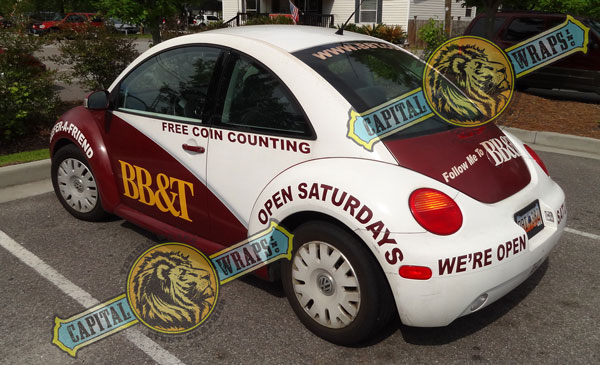 How Affordable is a Vinyl Car Wrap?
Perhaps you have one company vehicle—or maybe a whole fleet? Perhaps you want to wrap your personal vehicle to show off your own particular style? The question we get asked most at Capital Wraps is how much does a vinyl car wrap cost? We imagine any commercial sign company which specializes in vinyl car wraps will tell you the same thing we are disclosing here—it depends. Still, we want to be open about our pricing. Here, we break down five things to help you determine the true cost to wrap your vehicle.
1. Size Affects the Price
If you have a Mini Cooper to wrap the price is not going to be as high as a Hummer or a box truck. Work vans like the popular Ford E-Series vans are bigger than some family minivans as well. Before you start to think about the price of a vinyl car wrap, consider the size of your vehicle first.
The price of a wrap is based on the size of the vehicle, a full vinyl car wrap can cost anywhere from $1,800 to $5,000 depending on size. Roof vinyl and window perfs are also considered in the cost of our quotes and including or excluding these parts of the vehicle will change the final cost.
2. What If You Have Installed Aftermarket Parts?
They made the use of this mobile billboard by combining it with a cohesive mobile marketing strategy; and as a result Ford has been very successful in the past year with boosting their sales. This further shows that while you derive the benefit from increased brand awareness by wrapping a vehicle. And that a single vehicle garners 30,000 to 70,000 impressions a day, that by combining the vehicle wrap with engaging your clients can further magnify your success of your business.
We have wrapped vehicles for many clients where they tell us they have a box truck or Spartan van and once we see the vehicle, they've added on equipment or other aftermarket parts that were not part of the original manufacturer design.
For vehicles that have aftermarket add-ons, even though we utilize the very best vehicle templates on the market today, we must include the cost of designing a wrap for special parts but also the extra installation time.
3. Aren't the Graphics Free?
We only employ highly educated graphic designers who are well versed in the best vehicle wrap software. After all their years of training and experience in the field, one also needs to think of the cost of paying our designers for the stunning wraps they create.
However, at Capital Wraps, when we are asked how much a vinyl car wrap costs, we offer upfront, one quote pricing, which includes the consultation, the artwork, the printing of the vehicle wraps and the installation. Beware of companies which have separate charges for each stage of a vehicle wrap. We don't believe that is a good way to do business and it's one of the reasons why we've been so successful both locally and nationally.
4. I Have a Fleet? Can I Get a Discount?
We do offer discounts on fleets and again, if you choose another sign company, we encourage you to ask them if they offer fleet discounts. With fleet vehicles, a couple factors come into play:
All the Same Vehicles – We've wrapped fleets where every vehicle in the fleet was exactly the same. Once the artwork is approved, our designs our saved digitally so printing out multiple fleet wraps and installing them is repeated easily, allowing us to offer fleet discounts.
Varied Vehicles – On the other side of the fleet wrap cost is those companies who may have work vehicles and passenger corporate-type vehicles. While they want their colors, graphics and logos to be similar on every vehicle, the design process means additional work to achieve optimal "placement" based on the type of vehicle—but we still offer a fleet discount on these as well so ask us how we price fleets that contain different types of vehicles.
5. Materials Count Too!
We only use top vinyl film from manufacturers like 3M and Avery and their superior vinyl film is also considered in the cost of vinyl car wraps. We have years of experience with these products, and not only are they 100 percent removable, they can last up to five years.
In addition, some of our clients look for an extra "pop" where we utilize second surface graphics to produce a deep dimensional effect. Rest assured we do work with your budget in mind.
Think of Vinyl Car Wraps as an Art! We Do!
Although we are a full service sign company, we specialize in vehicle wraps. That means every project we do is like an artist looking at a blank canvas for the first time. We like to think our creations are the Monet and Salvador Dali of designs—unique, eye-grabbing and stand-out designs that captivate and entice and engage.
So, how much do vinyl car wraps cost? We think we've covered the areas considered in pricing vehicle wraps but more importantly, the quote we give you is all-inclusive.
We think the real question should be what is the most affordable form of advertising in media today? Let's say you spend a total of $4,250 on a box truck wrap and it lasts for four years—that boils down to approximately $88 per month. Can your local newspaper, radio or television station offer the same?
Take charge of your advertising and turn your vehicles into 24/7 moving billboards. Your free quote is just a click away…
Capital Wraps is a premier Custom Wraps and Graphics company is located in Washington DC. For more information on vehicle wraps, fleet wraps, or our other graphic products please contact Capital Wraps at 877.775.WRAP or visit www.capitalwraps.com