Unforgettable Marketing Is The Key To Success
For any sized company the best form of advertising you can get is commercial vehicle wraps. OAAA identified vehicle wraps are a low cost advertising solution that provides the highest impact of any form of marketing. If your fleet is already on the road, take advantage of that exposure to boost customer awareness for your company, products and services. Our fleet wrap designs are custom tailored for your company's brand identity to maximize your visibility and help you stand out from the competition.
Here are some research statistics that show how effective mobile ads are:
98% of in-car audiences indicated they noticed truck-side ads.
Individual vehicle advertising generates between 30,000 to 70,000 daily vehicle impressions.
Fleet vehicle advertising boosts name recognition 15 times greater than other advertising media.
Americans report spending an average of 15 hours per week in-car
Every traffic jam becomes a terrific marketing opportunity.
Mobile advertising media reaches consumers not exposed to newspaper, radio and television.
Unlike home mailers, your advertisements are not compared side-by-side to your competitors.
Mobile graphics can reach audiences of all ages, gender, backgrounds, income, professions and families.
Use your company assets. You already own the space–advertise on it!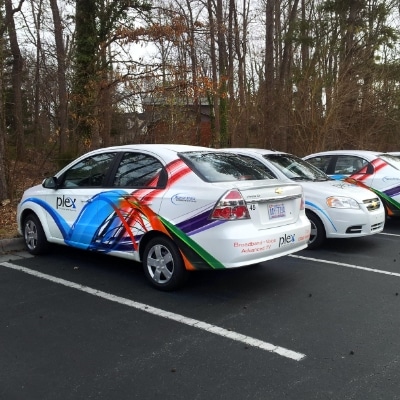 Turn Drive Time Into Ad Time
How many hours are your technicians or drivers on the road? You could be advertising while they are driving to their delivery stops, parked in front of clients and their neighbors, or when they are out at lunch. These hour are critical advertising, marketing and promoting time and you should take advantage to reach 30,000 - 70,000 people every day PER vehicle.
The Fortune 500 companies like Fed Ex, Spectrum or Verizon have all their vehicles branded–because it works! Your company can also benefit from the power of commercial fleet vehicle wraps and graphics. Your commercial mobile billboards will spend hours on the road, every day!
Stand Out From Everyone Else On The Road
There is a sea of white vans out on the road in your area. You don't want to blend in, do you?
A simple logo and phone number are not enough to convey a professional image of your company. You have to stand up and be noticed. Commercial graphic branding and fleet graphics have more identity power than simple cut vinyl letters. Set yourself apart from your competitors with vibrant colorful graphics.
At Capital Wraps, our team will work with you to understand your company and design a custom graphic package that will convey your brand identity and garner customer awareness for you whether you have three trucks or a fleet of hundreds. We offer a wide range of products including full wrap, partial wraps, changeable graphic systems, car wraps and graphic packages.
Why Choose Capital Wraps?
Capital Wraps has the experience and expertise to handle your program through turnkey solutions. We can handle installation in one city with 25 Prius installs or 500 Cargo van installs nationwide. We print on premium vinyl from 3M and use match-component material to guarantee the quality of your fleet graphics. Our creative team will handle your creative needs with the talent they apply to all our custom designs. Our national network of qualified install teams will ensure a minimal time off the road.
Turn Your Fleet Into A Marketing Powerhouse
Call our experienced staff at 877.775.9727 or message us online to speak with a representative about your fleet wrap project. We have worked on rush orders and tight timelines to make our clients' events and launches successful and vibrant. We offer a complete service for single vehicle and fleet clients; this includes initial consultation, design, production and installation. All of our vehicle graphics are printed using warranted print materials and installed by our professional and experienced installation team.