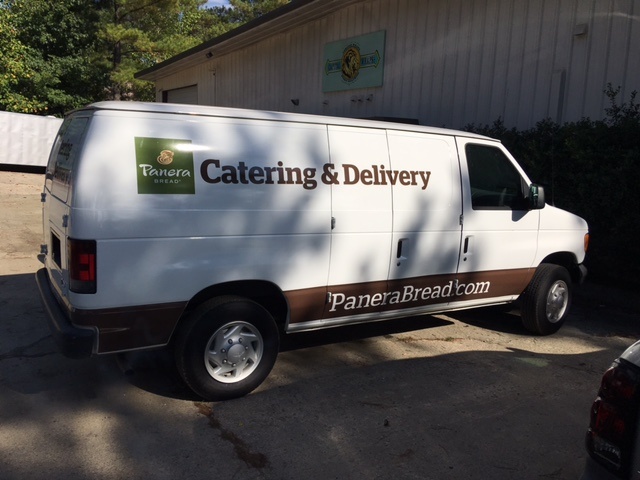 Panera- YUM!
One of our most recent wraps was for Panera Bread.
In this economy every business needs to stretch their advertising dollars as far as possible.  A Capital Wraps vehicle wrap is a cost effective mobile marketing tool which exposes your company advertising to thousands of people on any given day of the week.   Consumers are on the road, or driving by your place of business everyday.   Shouldn't your company car, truck, van, or fleet vehicle carry your business message and logo everywhere it travels?  And shouldn't those advertising dollars still be at work when your vehicle is parked out front and your business is closed?  Capital Wraps can accommodate all your vehicle graphic needs.
Did you know the average vehicle or fleet wrap gets 30,000 to 70,000 views every time the vehicle is on the road?  That equates to millions of views each year for a SINGLE VEHICLE WRAP!   This is important for both national client as well as local businesses.
The flexibility and mobility of our product provides the most cost effective and broad reaching advertising money can buy.   Our graphics are original, captivating, exciting, thought provoking, and make a lasting impression on customers.
Capital Wraps is a premier Custom Wraps and Graphics company and is located in Washington DC, and Raleigh NC.   For more information on vehicle wraps, fleet wraps, or our other graphic products please contact Capital Wraps at 877.775.WRAP or visitwww.capitalwraps.com
Tweet This- or upload to Instagram!  #Panerabread
---
Not Just National Wraps:

The flexibility and mobility of our product provides the most cost effective and broad reaching advertising money can buy.   Our graphics are original, captivating, exciting, thought provoking, and make a lasting impression on customers.

Capital Wraps is a premier Custom Wraps and Graphics company and is located in Washington DC, and Raleigh NC.   For more information on vehicle wraps, fleet wraps, or our other graphic products please contact Capital Wraps at 877.775.WRAP or visit

977.977.7070

Capital Wraps is a premier Custom Wraps and Graphics company is located in Washington DC. For more information on vehicle wraps, fleet wraps, or our other graphic products please contact Capital Wraps at 877.775.WRAP or visit www.capitalwraps.com

« Wall Wraps and Murals- Powerful Branding tools