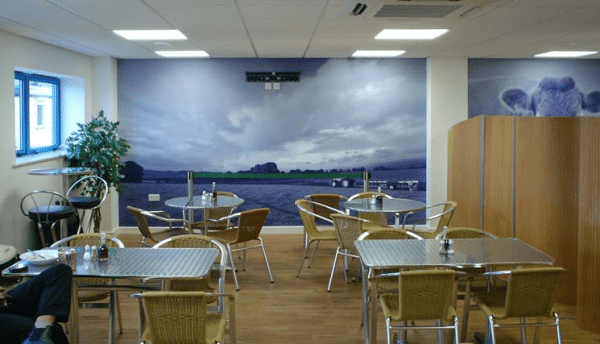 Alexandria, VA — Most retail stores have used the standard wall posters. These have been around for decades and are typically 2' x 3'. I still walk into many retail locations and see these stuck on the wall, they are faded most of the time and are ignored by most people who walk in.
In the past these may have been an effective tool, today if they are used in the same way, they are just clutter. Recent technological advancement have improved how you can use these posters. Most of the in-store graphics, we use today are printed on adhesive vinyl and can be applied to wall paper, painted walls, tile, and glass windows. These are popular options for creating a fast changing retail environment and allow you to update specials and highlight key or new items frequently.
Here are 5 ideas to help you get the most out of your retail window graphics and wall murals. Make your space rock, here's how:
Implement a marketing program. While sale are frequently, use these graphics to highlight a specific item and special. Remember you are selling value, so engage your customers and make them feel they
Use window graphic to make your exterior graphics capture new customers. Many retailers are starting to put these posters in windows, but using a coordinated graphic, your design can run across a bank of windows or across a side of your buildings. Yes, they can even be see-through.
King Size it! When doing windows graphics, a 2' x 3' window poster will only cover a small part of a 4' x 6' window. Make the graphics cover the entire display. These see-through windows get your great exposure without don't cut of the natural light supply.
Pictures are better than text. Just as the old adage says about 1000 words, a picture is easier for your clients to understand and "get it". For most people driving by, your graphic will have only 3 seconds to grab their attention. Grab their interest with a picture of a drink, ring, or other product.
Move beyond the walls, move your graphics to the floor. Yes floor graphics capture attention and don't take up space on the walls. These are great ways to convey messages for large format graphics.
If you still have questions about murals and window graphics, call a Capital Wraps representative now to answer all your questions.