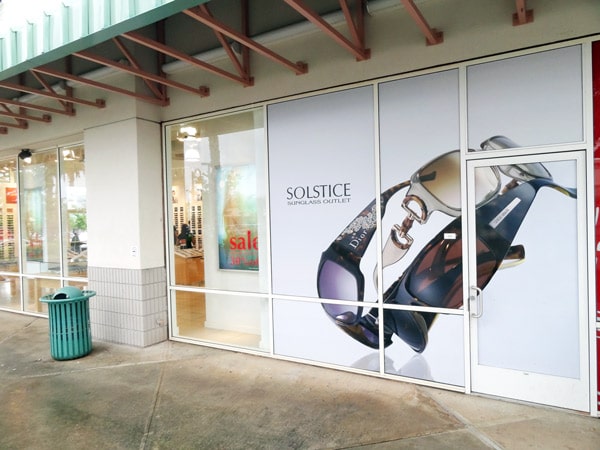 First impressions are important, and especially so for a storefront.   Sinage and presentation are critical elements in drawing customers into a store.  Dressing up the storefront windows with information and graphics is precisely how to catch the eye of your consumers.   Well designed window graphics should convey a clear message of a store's content and should speak to the store's target audience.

Storefront windows are a primary tool for attracting consumers.   Some storefronts, like Solstice, have wonderful and dynamic window space for attention grabbing posters and images which can be seen clearly from across the street.   These kinds of images and advertising make you look twice.  I know if I were looking for sunglasses I would want to take in look inside this store first!

The importance of making a good first impression can not be emphasized enough. What customers see on a storefront ultimately leads them inside, or causes them to walk on by. Whether promoting a sale, or welcoming a new season, or introducing a new line of products, the storefront windows play a vital role in giving consumers a little taste of what's inside.   Make it yummy.   Dress up those windows!

An excellent way to update your storefront is with a banner.  Banners can be created for each season or holiday of the year, or make an effective and cost saving way to promote a sale or upcoming event without needing to change your window graphics.

Capital Wraps can also install non-traditional advertising and graphics anywhere, on any surface! Here are some of the innovative products we use to attract attention…

Elevator wraps, staircase graphics, wall murals, window graphics, table graphics, brick wall wraps and concrete building wraps are just a few  the surfaces Capital Wraps can brand in graphics. We also supply and manufacture the more traditional graphic displays for tradeshows, corporate offices, and retail stores. Check out our ecological, environmentally conscious graphics solutions.

• Wall Graphics and Murals
• Window Graphics and Storefronts
• In-store Displays and Graphics
• Tradeshow Displays
• Elevator Graphics
• Floor Graphics
• Table and Furniture Graphics
• Bathroom and Urinal Graphics
• Portable Toilet Graphics
• Banners and Signs
• Custom Surface Graphics

Capital Wraps offers the best wrap and graphic designs in the southeast. Don't settle for plain old windows – create effective and dynamic window artwork! We work with individuals and businesses to give them the look they want. Visit our website to see our designs –www.Capitalwraps.com

Capital Wraps is a premier Custom Wraps and Graphics company is located in Washington DC. For more information on vehicle wraps, fleet wraps, or our other graphic products please contact Capital Wraps at 877.775.WRAP or visit www.capitalwraps.com

Vehicle Wrap Maintenance and Care » « Food Truck wraps!