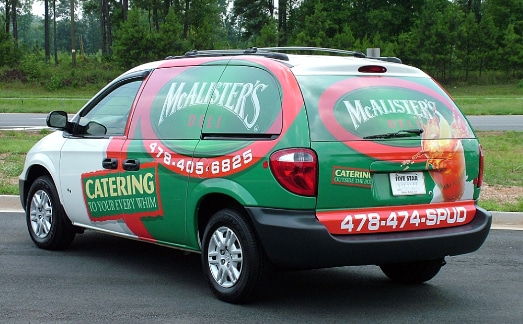 Washington DC — In today's financially tight economic recession small and large businesses make decisions to reduce their costs and spending.  Although this is a decision at first glance appears to be the right one for the business especially when it comes to advertisements exposure.  However, this is the time when business owners should cut back on these critical advertising expenses but should spend it more wisely.  This is where the benefits of vehicle wraps and boat wraps can prove themselves as they outweigh the cost of traditional advertising such as radio, television, print ads, and traditional billboards.
Simply put, vehicle wrap are full-color digitally printed vinyl graphics with protective laminate that is applied to autos, vans, trucks, boats or buses. These graphics are digitally printed so they can include company logos, photographs, and text in stunning dynamic designs.
Much research has been done recently into the effectiveness of vehicle wraps, so consider this: where as a newspaper ad is only good for a day and television commercial only last about 30 seconds, a vehicle wrap will last for up to 5 years.  According to the Transportation Advertising Council, a division of the Outdoor Advertising Association of America (OAAA), vehicle wrap advertising generates between 30,000 – 70,000 daily vehicle impressions. This is an extremely cost-effective way for businesses to get noticed by literally millions of impressions per year.
Arbitron, Inc., an international media marketing research firm serving outdoor media, radio broadcasters, cable companies and advertising agencies in the United States and Europe conducted a study which demonstrated that almost one out of three Americans do not read a daily newspaper and yet on the contrary, the study also showed virtually every American (96%) travels in vehicle each week as either a driver or a passenger.
Moreover, the Arbitron study concludes that consumers that are reached repeatedly with a message show higher advertiser awareness, brand recall and purchase behavior.  Car wrapping, then, offers advertisers an excellent opportunity to reach commuters on the highway and city streets. You can find the detailed report at (www.arbitron.com) as well as on the site of the Outdoor Advertising Association of America (www.oaaa.org).
"Wrapped vehicles not only place messages in front of target consumers, they also provide the opportunity for direct consumer contact". This is true because the operator of the wrapped vehicle is typically sponsored by the logo's represented on the wrap and he or she is well versed about the product(s) being advertised. What a great way to reach potential buyers!
The cost of advertising over the life of the vehicle wrap is a minuscule amount if you are interested in reaching hundreds of thousands viewers over the short term. Even with tough financial times, advertising is a sure way to attract potential customers and a mobile billboard so-to-speak is the most cost efficient method.
The Capital Wraps Advantage
Over the last decade we have worked to perfect every aspect of the car wrap process. Just look at the aspects of the vehicle wrapping process we have perfected:
Knowledgeable, experienced and concerned staff
Detailed creative counseling to guarantee fantastic designs
Responsive customer service that listening, and follow-up
Leading industry knowledge on materials and practices
Industry experts and columnists in WRAPS and Sign Business Magazines
Streamlined operations to ensure you a satisfying customer experience
From customer service, education, and printing experience to becoming one of the few companies nationwide to be qualified as MASTER INSTALLERS, you are guaranteed not only quality products, but as a valued customers and partner when you choose to use Capital Wraps.
Capital Wraps is a premier Custom Wraps and Graphics company is located in Washington DC. For more information on vehicle wraps, fleet wraps, or our other graphic products please contact Capital Wraps at 877.775.WRAP or contact us online.