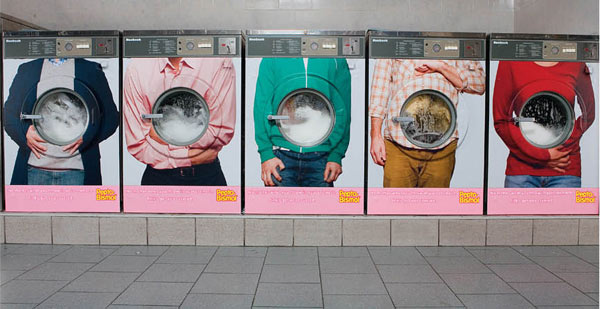 Almost every business has empty space which could be used to inspire, inform, or promote a product to prospective clients.
Every day companies are looking for ways to capture their consumer's attention AND motivate them to open their wallets- or at the very least, make a memorable impression prior to a purchase.   Finding innovative ways to make a lasting impression is difficult in this era of information overload.   Regular signage in regular places isn't the only way to convey your advertising message.  Businesses need that extra "something" to catch the eye of consumers and new clients.
The following images are some wonderful and interesting ways a few of our clients were able to use sticky graphics.
The possibilities with flooring and wall space murals are limited only by your imagination. We can wrap any space, large or small, interior or exterior, with our vinyl graphics.  Or designers will help you create the imagery, look, and feel of the wrap you want to create for any space in your office, business, school, or event.
Obviously vehicle graphics are an effective and dynamic way to advertise on the road.  With vehicle wraps your advertising goes where your company car, truck, or van goes, and when your business is closed, your advertising dollars are still at work if your vehicle is parked in a high traffic area.  Call us today to see how we can help you fill your empty advertising spaces with graphics that will get attention, no matter where you put them!
Capital Wraps is a premier Custom Wraps and Graphics company is located in Washington DC. For more information on vehicle wraps, fleet wraps, or our other graphic products please contact Capital Wraps at 877.775.WRAP or visit www.capitalwraps.com