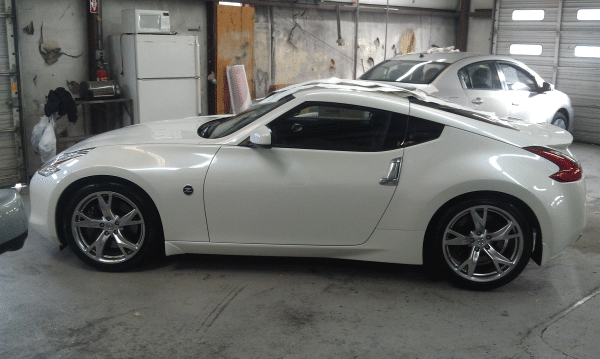 It's nothing short of amazing the way a vinyl wrap can transform the item it covers, whether it's a vehicle wrap, a wall mural, floor graphics, boat graphics, window murals, or adhesive advertising for a washing machine.  If your company needs an innovative way to advertise, or you are simply an owner who wants to flaunt his or her personal style, large format sticky graphics are the best way to make a remarkable change.
This beautiful car needed a little something extra.
We began with the red vinyl graphics which shows off the style and curves of the car.
Next we layered in the blue details which give the wrap more depth and dimension.
Finally we added the Nissan logos and location/web address.
The end result was gorgeous.
But we do far more than vehicle wraps…
What about this laundry mat campaign from Pepto Bismol?  It's eye catching, funny, and memorable!
Shark week gave this bus some teeth!
There are so many wonderful and creative ways to use vinyl wrap graphics.  We can help you with any project, vehicle, or advertising campaign.  Call us today to find out how we can help you, your company, your building, your car, or your washing machine get the transformation it needs!    1-877-775- WRAP
Capital Wraps is a premier Custom Wraps and Graphics company is located in Washington DC. For more information on vehicle wraps, fleet wraps, or our other graphic products please contact Capital Wraps at 877.775.WRAP or visit www.capitalwraps.com