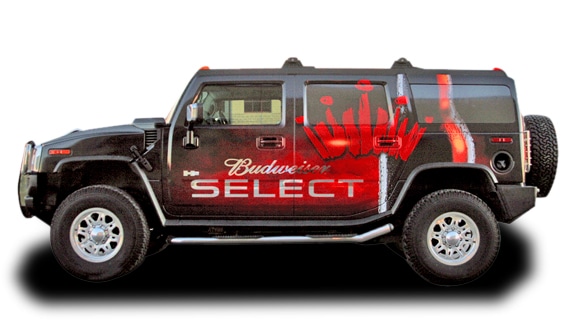 Capital Wraps can transform you vehicle into a moving billboard with car wraps and vehicle graphics. A commercial car wrap will drive your visibility for your business wherever you or your employees drive. Take it to the business meeting, the networking event, and the opening night at the theater, and you will be gathering exposure to your company.
Get the most out value out of your car wrap by including eye catching graphics, your logo, services, and contact information. Car wraps will instantly transform your car, truck, van or vehicle and your company – giving you a professional image. Call Capital Wraps Today.
The Top 10 Reasons to Wrap Your Company Car:
Wraps are the single, most cost-effective form of advertising available;
A wrap is 40 times more cost-effective than a standard television ad. Imagine getting the same results from a $1000 vehicle wrap as you would from $40,000 in television advertising!
Wraps work for you around the clock – 24/7.
Unlike other advertising, there is no ongoing costs. Only the initial – one time price.
Car advertising generates anywhere between 30,000 and 70,000 impressions everyday.
96% of Americans travel in a vehicle each week as either a driver or a passenger. Get their attention by wrapping your vehicle to advertise your business, product, or service!
The typical cost of a car wrap is less than 2 months of a billboard and will last over 3 years.
Yellow page ads are more expensive than ever (up to $15,000 per year for a half page ad). Not only are you next to your competition, but who uses yellow pages anymore.
Car graphics on the average yields about 8.4 million impressions each year.
Wrapped cars get your message right where it belongs: In front of potential consumer!
Contact our staff to help your next vehicle wrap project
Call our experienced staff to speak with a representative about your company car wrap project. We have worked on rush orders and tight timelines to make our clients' events and launches successful and vibrant. We offer a complete service for single car and fleet clients; this includes initial consultation, designing, printing & production and installation. All of our car graphics are printed using warranted print materials and installed by our own professional and experienced installation team.
Download out marketing kit to find out how to maximize corporate vehicle wraps into your marketing strategy.