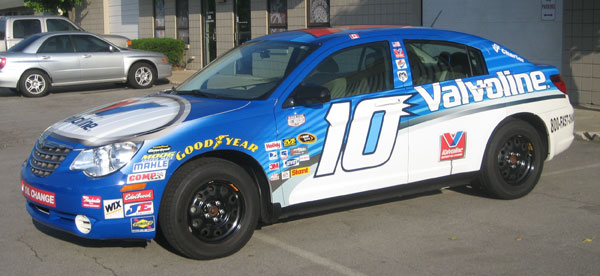 Greensboro, NC – Franchises like Valvoline Instant Oil Changes understand the value to have their salesmen and service technicians driving around in wrapped vans and cars.  Their understanding starts on the racetrack.
Their No. 10 race cars showcase vibrant and eye-catching graphics as they careen around the track and several hundred miles per hour.  The brand awareness generated on track is easily translated off track as they pull in the same graphics packages onto their cars and vans.
These dynamic wraps are easily translated onto cars or trucks around the community and broadcast who they are with distinct clarity.  These two recent vehicle wraps based on the Number 10 sponsored car have been driving around the Triad and turning heads.  This is after all NASCAR country.
These two wraps are part of a larger project to modernize the brand and bring the entire company's identity into the 20th century.  In addition to racecar graphics there is a push to change out all the branding through out the service centers and waiting areas.  Over the next year, many locations will be receiving a facelift and new signage packages to show off the clean design and service offering.
Contact a Capital Wraps representative today to see what our design and installation team can do with your company's brand and identity.  Our wrap designs will turbo boost your awareness and brand identity.
Download Your FREE Car Wrap Information Kit HERE
Capital Wraps is a premier Custom Wraps and Graphics company is located in Washington DC. For more information on vehicle wraps, fleet wraps, or our other graphic products please contact Capital Wraps at 877.775.WRAP or visit www.capitalwraps.com