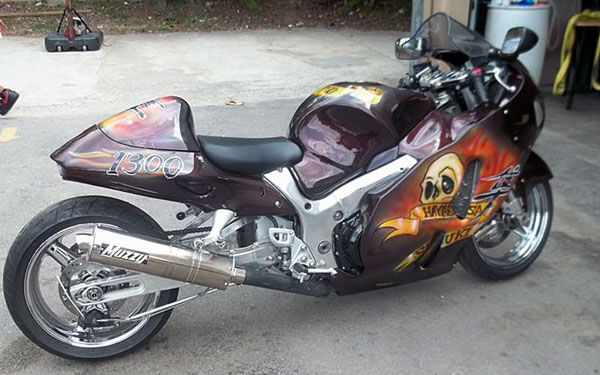 We are approached my numerous clients asking us to compare wrapping a motorcycle or have it custom painted.  There are advantages for both.  Lets look at the options.
Custom Paint has been around for a substantial period of time, there are some extremely talented artists who specialize in custom artwork.  Our local and CWI's resident painter Bo Meadows, from Bo Meadows Designs & Auto Detailing as been in the business for over 25 years and painted, pin stripped, custom painted, airbrushed most of the custom cars around Durham and Raleigh North Carolina since the mid 80's.  Here are some of the recent works from his company to hit the tarmac.
This motorcycle is custom painted and took about 4 weeks to complete the job from concept to the drying of the last clear coat.  The bike was in his shop for the duration and completely disassembled.  The final result is a stunning product and one that will last for years.
Vehicle wraps for motorcycles also look stunning and once designed can be install in a couple of days.  Here is a recent motorcycle wrap for Milwaukee Iron.  This custom build Harley Davidson cycle was completely wrapped in Carbon Fiber.
Contact Capital Wraps to see about getting your bike painted or wrapped.
Capital Wraps is a premier Custom Wraps and Graphics company is located in Washington DC. For more information on vehicle wraps, fleet wraps, or our other graphic products please contact Capital Wraps at 877.775.WRAP or visit www.capitalwraps.com