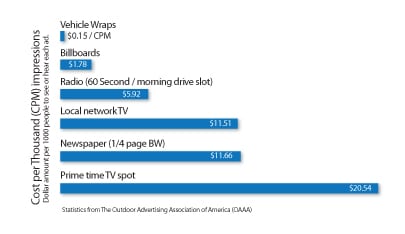 I wish I had a nickel every time a person asked me "How much is a vehicle to wrap? With this new technology, we expect and are excited to answer this question each time. Some of the people asking this question are just shopping, others are wishing, but most ask us this questions because they genuinely want the answer to see about using this medium to promote their business. With this prospect in mind here is the basics on the true costs of vehicle wraps.
The costs to put graphics on your vehicle ranges in price but depends on the size of the vehicles and amount of coverage. We can cover a vehicle with decals, partial wraps and full wraps. Full vehicle wraps range from $2000 to 4500, partial wraps range from 1000 to 2500, and lettering ranges from $250-1500. This holds pretty true for car graphics, truck wraps, van wraps, and box truck graphics.
But the actual value of the vehicle wrap is all about how much comparable you would be spending on advertising to be able to reach the same amount of people. Arbitron Inc is a leading international marketing research firm that serves outdoor media, radio broadcasters, television cable companies, and other advertising and advertising agencies across United States and Europe. It measures Costs per 1000 impressions – this is the measurements of how effective your advertising is. We can compare prices of different media of advertising to see where to get your dollars. The table below shows how vehicle wraps compare with other advertising forms; and it is the most cost effective.
As you see from this Vehicle wraps advertising is the most economical form of advertising. Here is the calculation is that for a $5000 advertising investment you can reach different amounts of perspective clients:
16.2 million advertising impressions with vehicle wraps
1.4 million advertising impressions with outdoor signage
645,000 advertising impressions with a :30 minute Radio ad
210,000 advertising impressions with a :30minute TV ad
This is just another way to show you how to measure the reach of your wrap advertising. Said another way, to get the same effectiveness of advertising on television as a single vehicle wrap, you would have to spend $135,000 (according to a 3M report). This is the true cost of vehicle wrap advertising.
While vehicle graphics may not be the right solution for every business, but for those that see the benefit of a vehicle wrap as a ongoing form of advertising that will last for years this may be within your budget. If you need an effective way to promote your company, increase your visibility in your area, a vehicle wrap or graphics package can assist you. Having your vehicle wrapped with your brand, logo, and contact information, ensures that wherever you drive, people will see. You will garner potential customers impressions for your company and products or services. Increase your exposure in your community with a corporate vehicle wrap and drive up your sales.
You can download
Capital Wrap's FREE Vehicle Wrap Marketing Kit!
See how a Capital Wraps vehicle wrap will benefit your company.
Capital Wraps is a premier Custom Wraps and Graphics company is located in Washington DC. For more information on vehicle wraps, fleet wraps, or our other graphic products please contact Capital Wraps at 877.775.WRAP or visit www.capitalwraps.com