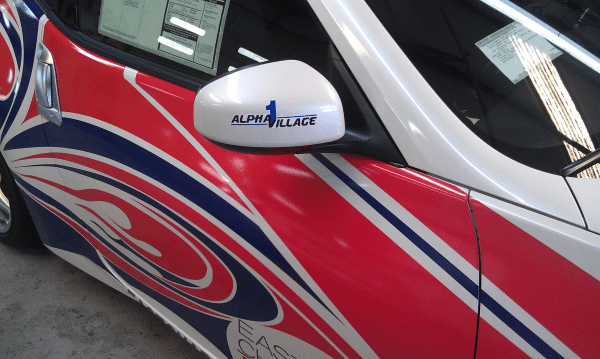 Vehicle Wrap Warranty
In this post, we'll take a look at the factors that go into a vinyl wrap warranty, focusing on the leaders in large format vinyl: 3M, Oracal, and Avery. These three brands have come out as the clear winners in the vehicle wrap game because they're easier to install and remove than the cheaper brands. The easier the installation, the better the result, and the happier you'll be with your vehicle wrap.
How long does a car wrap last? 
If you've been shopping around for a vehicle wrap, it's likely you've already looked into the various types of warranties that are offered for an Oracal, Avery, or 3M vinyl car wrap. And for good reason–no one wants a cheap wrap with bubbles, wrinkles, or even worse, one that starts peeling off.
Car wraps vinyl comes with a durability rating from the manufacturer. This is generally a 1-year, 3-year, or even an 8-year rating. These durability ratings are based on the vinyl having no ink printed on it and being vertical to the sun; meaning, on the sides of a vehicle. After we print on the vinyl, the durability rating drops a bit due to the addition of the ink to the vinyl. That rating, and therefore the warranty we are able to offer the customer, goes down a little further for vinyl on the top of the vehicle. The parts facing the sun, including the hood, roof, or trunk of a car, tend to degrade faster. For those parts the warranty drops to around 1-2 years and some manufacturers won't stand behind it all. So, while your nice 3M vinyl car wrap will last the longest if you keep it solid white, of course most people want some logos and bright eye-catching colors! After printing on the vinyl, it's reasonable to assume that you'll probably get 3-4 years out of the sides, and 1-2 out of the hood and roof areas.
Additional Complicating Factors
Now, to get the warranty (which will be for a shorter length of time than the durability the manufacturer posts), the shop must register their printer and inks with that manufacturer. The manufacturer has to approve their printing processes to make sure they're doing everything to spec. How many shops actually go through this process? Well, not too many, unfortunately. That's part of the reason why the length of your Oracal, Avery, or 3M vinyl wrap warranty is difficult to calculate. There is no way of knowing if the wrap shop takes care of their printer, if they use cheap inks, how good the installer is, and how well the customer will take of their vehicle wrap. There are a lot of variables so they have to be careful. The sun is brutal, the acid rain is too, and if you don't wash it off it can degrade your wrap. All of these factors affect your vehicle wrap.
How Can You Make Sure Your Wrap Goes the Distance?
Step 1: Choose your wrap shop carefully. Asking what kind of printer and inks they use, and if they're registered with the vinyl manufacturer, isn't something you have time for or will even remember. You need someone who has been in the business for a while and knows what they're talking about.  Don't rush the wrap process or they'll cut corners.
Step 2:Ask them after they print to let your prints dry or "outgas" for 24-48 hours.
Step 3: Make sure their installers know how to properly apply vehicle wraps. The best way to do this is to get on their website, go to their gallery, and call the phone numbers you see on a couple of the vehicle wraps and ask them.
Step 4: Then it's time for you to do your part. You must wash your vehicle once a month at the very least. Stay away from harsh car washes. Brushless is ok. Do not ever point any pressure washer at seams, or edges, and wax it with vehicle wrap wax. This will assure you a long life, 3-5 years.
What About the Vinyl on the Hood, Roof, or Trunk?
You can expect that any vinyl on your hood, roof, or trunk will begin to degrade after 2-3 years. Expect to spend $200 on replacing each portion. If you compare the costs of a vehicle wrap and maintaining it to other forms of advertising you'll see real quick that this is pennies in comparison.
Are Wraps Worth It?
The value of a vehicle wrap simply can not be understated. Their power is something to behold as they attract eyes from far and near around the clock. Using a vehicle wrap as a part of your current marketing or advertising campaign greatly enhances the effectiveness and your brand awareness.
Have any questions about vehicle wraps or the warranties? Contact Capital Wraps today.
Capital Wraps is a premier Custom Wraps and Graphics company located in Washington DC. For more information on vehicle wraps, fleet wraps, or our other graphic products please contact Capital Wraps at 877.775.WRAP or visit www.capitalwraps.com