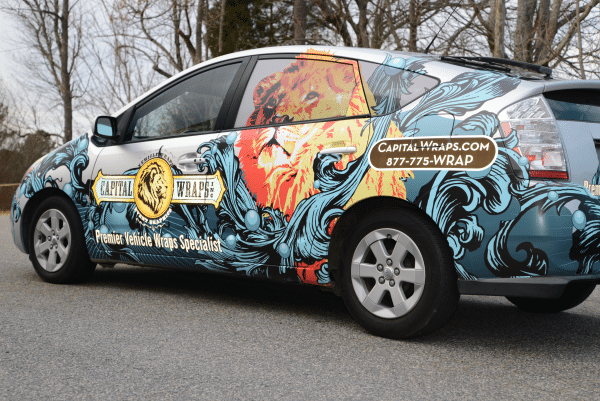 Transform Your Ride With Cool Car Wraps
At Capital Wraps we will wrap virtually any surface- such as walls, windows, floors, elevators, recycling bins, ice boxes, etc., but there is no question  vehicle wraps have a special place in our heart.
Cool Wraps For Company Vehicles
The best example we can give of the kind of results you can expect from your company car vinyl wrap is the results we enjoyed with our own company car! The Capital Wraps car was wrapped late last year. Featuring bold colors and our distinctive lion logo, it has been a head turner every place it goes. We had professional photos taken of the car by Robin Rogers Photography, and it is obvious the kind of statement the car makes in public. The wrap is dynamic, draws attention, makes an impact, and provides all the necessary information about our company and how to reach us. In fact, traffic to our website and calls to our main office increased dramatically within the first week of the car being on the road.
In terms of advertising dollars a vehicle wrap is one of the most long-lasting and cost-effective forms of advertising today. Thirty-second radio and commercial ads are expensive and fade into thin air, in one ear and out the other. Newspaper ads end up as birdcage liners, and yellow page ads have gone the way of the dinosaur. In this business era, every company needs a website, and how better to advertise in the community where you work and do business than a vehicle wrap?  On average, when a wrapped vehicle is on the highway during a regular business day, our wraps get 30,000 to 70,000 views…EVERY DAY!
Show The World Your Personal Style With a Cool Car Wrap
Why limit yourself to the range of colors available in the dealership? Your car is your biggest accessory, make it uniquely yours! There are plenty of advantages of wraps over a simple paint job are:
With a wrap you can show much more detail, sharper images, and more intricate graphics.
Vinyl wraps offer a layer of protection for your vehicle's exterior.
Wraps are easier to remove and change. You can have custom wraps designed and installed as your tastes evolve.
You can be sure that your one-of-a-kind design will stand out from the crowd!
So if you want a custom designed graphic wrap, make sure you get it from Capital Wraps. Don't stake your reputation on an amature or inexperienced company. Stick with us and you'll be glad you made the right choice.
The Art of Cool Car Wraps
Our installers are professional and 3M certified. The installation of a vehicle wrap is a meticulous process that requires a lot of skill and attention to detail. Our installers have years of experience as well as certification for the different kinds of materials we use on vehicles as well as other surfaces.
We have in-house designers and project managers who help our customers through every step of the creative process when designing a vehicle wrap. A wrap for a business should reflect the distinct and individualized nature of the company, as well as provide adequate contact information for potential clients. On the other hand, a personal vehicle wrap should convey the style and character of the owner. In either case, we've got the experience and the expertise to get the job done to your satisfaction.
Ready to Start Turning Heads?
Bottom line, a cool car wrap gets you the attention you deserve. Vehicle wraps are unbeatable advertising, they are affordable, and they reach potential customers in your community and business regions. The income-producing potential of a well-designed and professionally installed wrap should not be underestimated. Call us today to see how we can help your business with a customized vehicle wrap made especially for your company.
Capital Wraps is a premier Custom Wraps and Graphics company is located in Washington DC. For more information on vehicle wraps, fleet wraps, or our other graphic products please contact Capital Wraps at 877.775.WRAP or visit www.capitalwraps.com