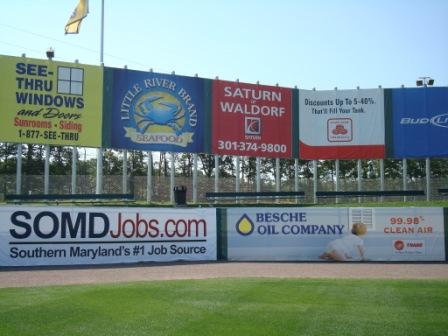 Banners and Fence Mesh Graphics
Many schools and learning centers have one thing in common – lots and lots of chain link fencing. Banners and Fence Mesh graphics on a chain link fence is an affordable, productive, and creative solution for a multitude of graphic advertising needs. Capital Wraps is competitively priced and we produce miles of fence mesh for schools every year. Capital Wraps can handle small jobs as well as larger fence mesh projects.
School banners and fence mesh graphics can be used to promote sporting events, fundraisers, upcoming school functions, or provide an extra boost of school pride with the school logo or mascot proudly displayed on one of our huge banners. Chain link fencing is valuable advertising space, not only for your school or learning center, but for supporters of your school as well. Athletic fields with hundreds of feet of fencing are a great place to sell advertising space to local businesses.
At Capital Wraps we use high quality fence mesh banners, with webbing in the hem, and grommets every 2 feet ensuring our product will endure the length of the school year and beyond. We produce school banners and fence mesh for projects all over the country and will provide professional installation whenever requested.
Fence mesh banners for schools can turn a bland, but functional chain link fence, into an aesthetic, informative, and eye catching billboard for students, parents, and the community. Banners are a great way to include and invite the surrounding community to participate in fund raisers and encourage residents support to the local school system.
Another interesting place to advertise is on the floor, or even on the pavement!
The promotional and advertising possibilities on a school campus with Capital Wraps are endless. With the high traffic and repeated use of school and school facilities your banners and advertising will be noticed. Let us help you find the best way to reach students, their parents, and the local community with banners and fence mesh- as well as floor, window, and wall graphics.
Capital Wraps is a premier Custom Wraps and Graphics company is located in Raleigh, NC. For more information on vehicle wraps, fleet wraps, or our other graphic products please contact Capital Wraps at 877.775.WRAP or contact us online.